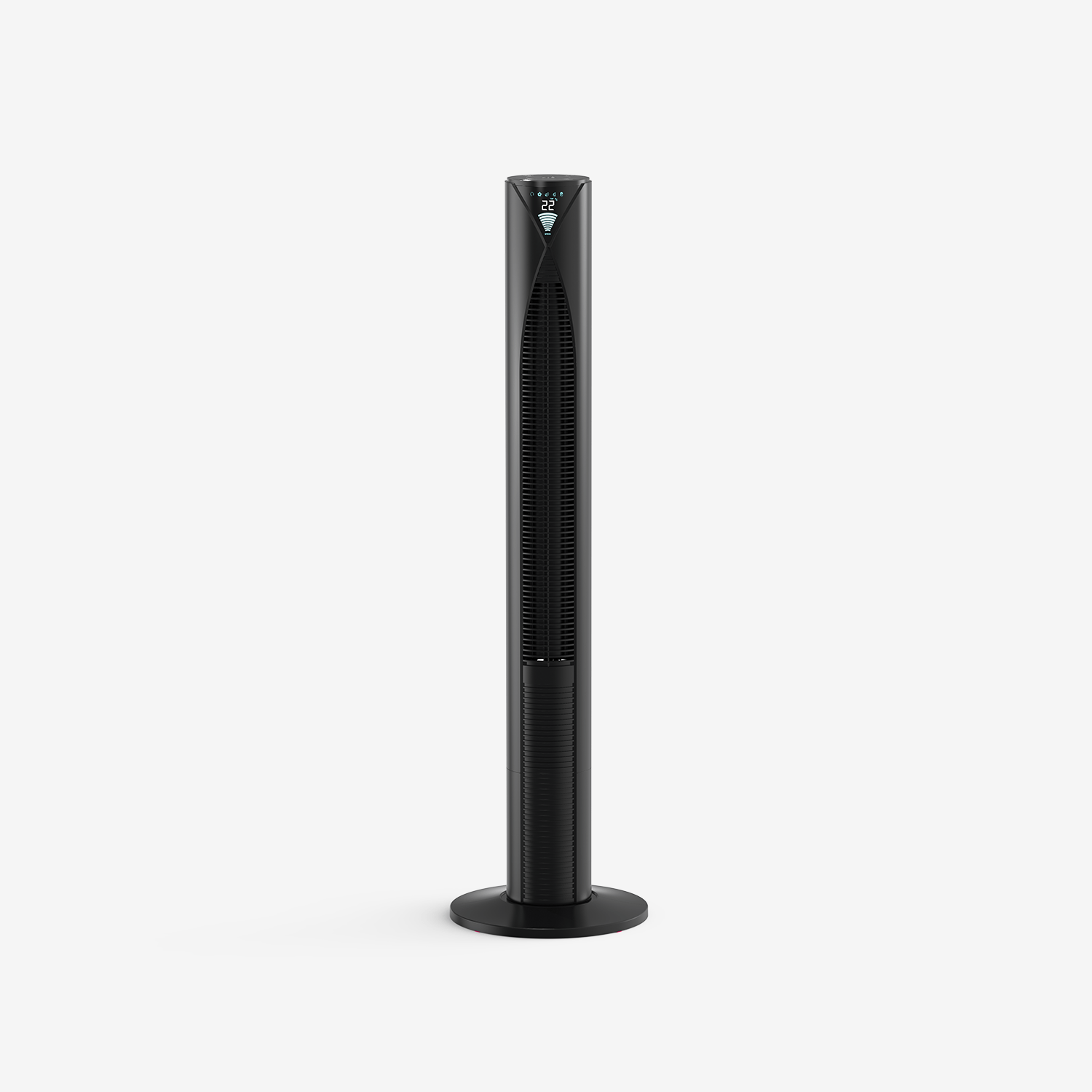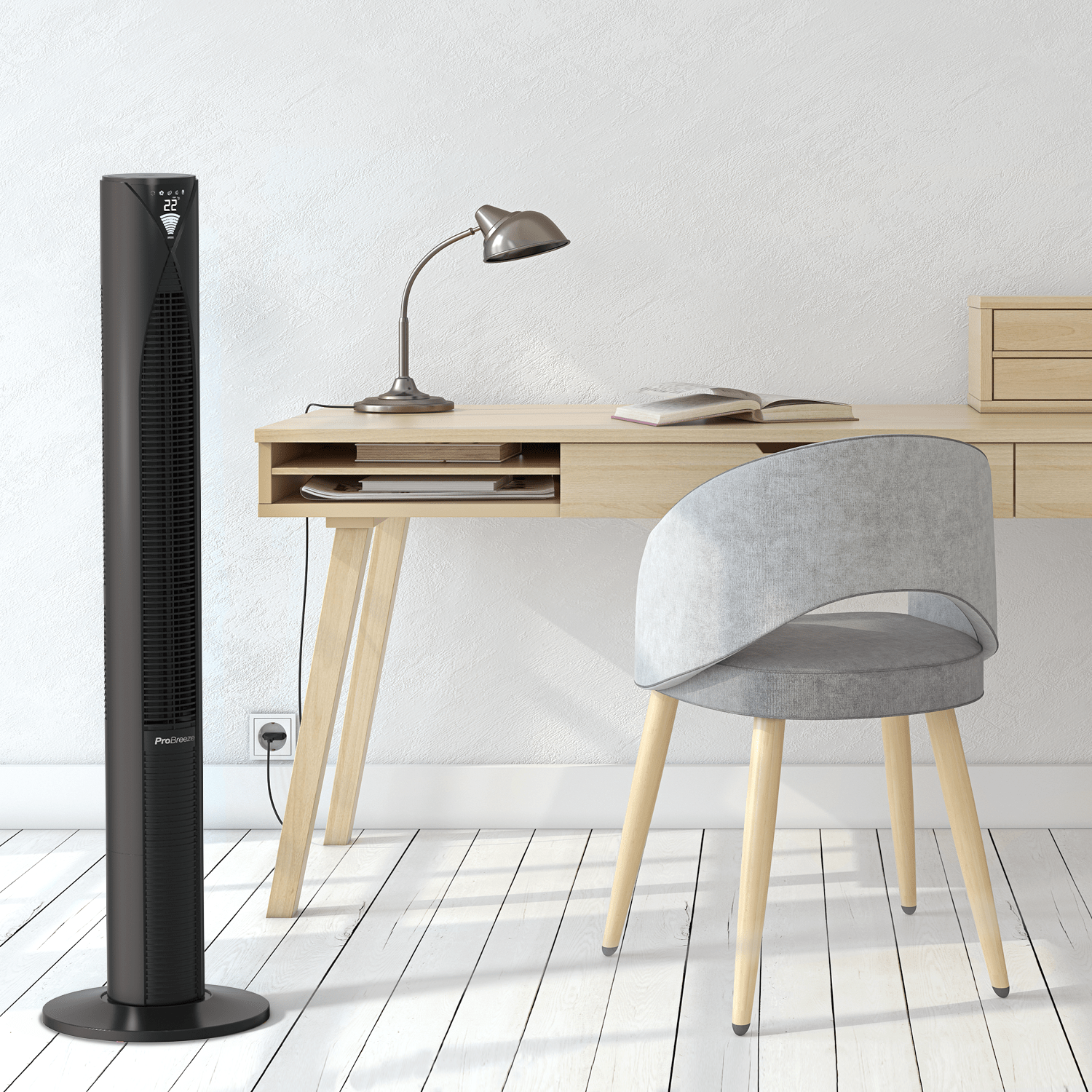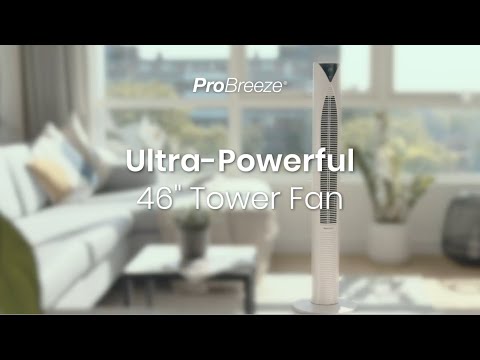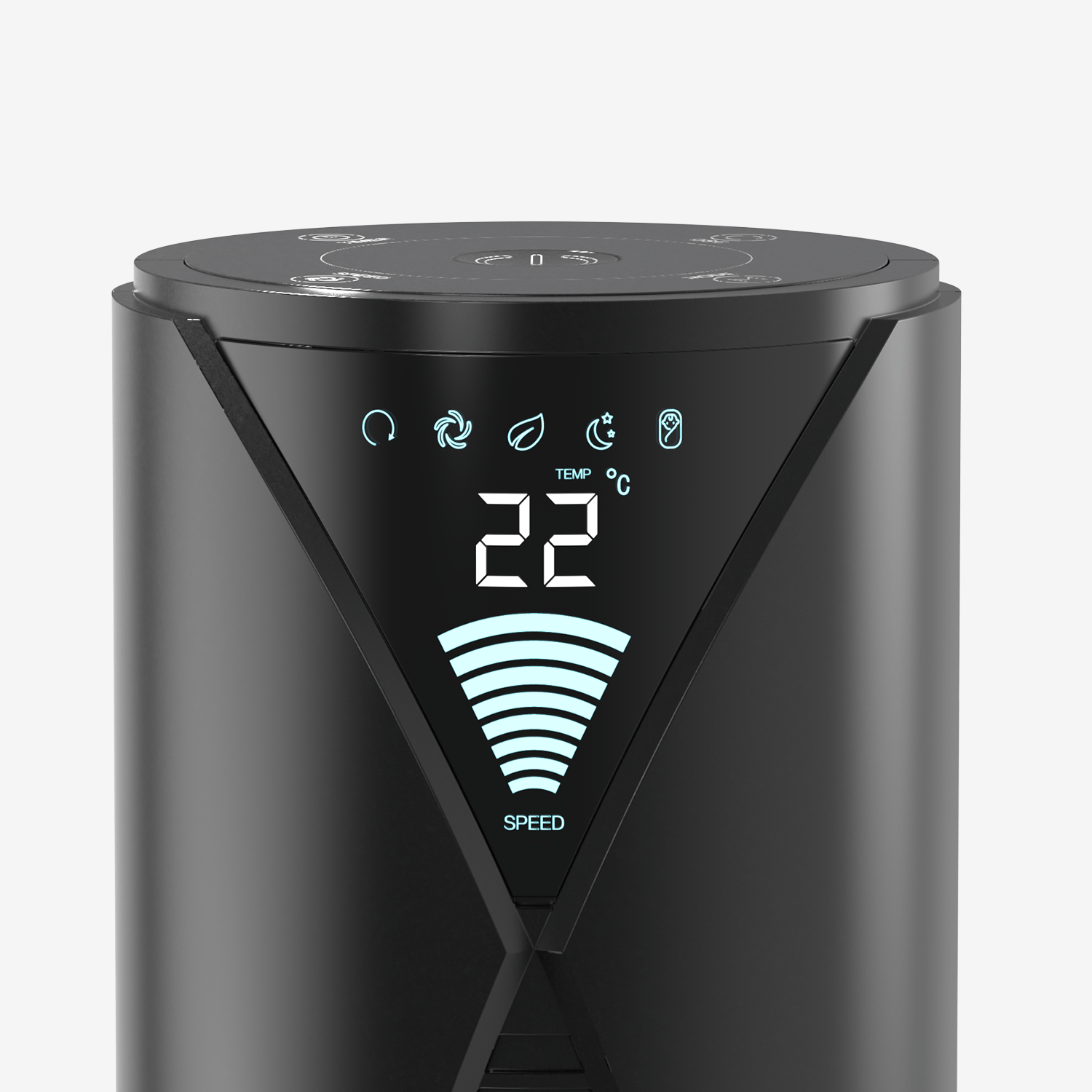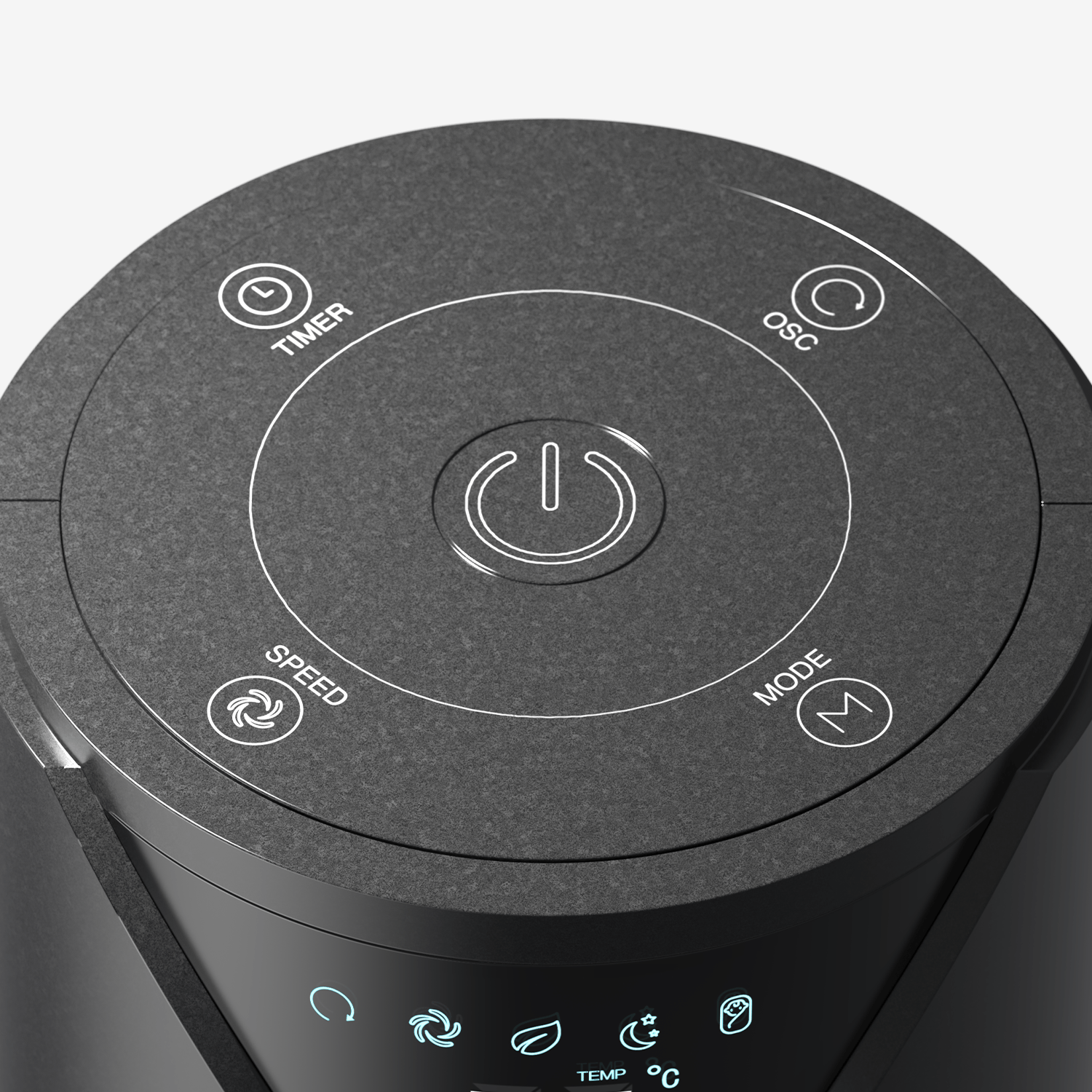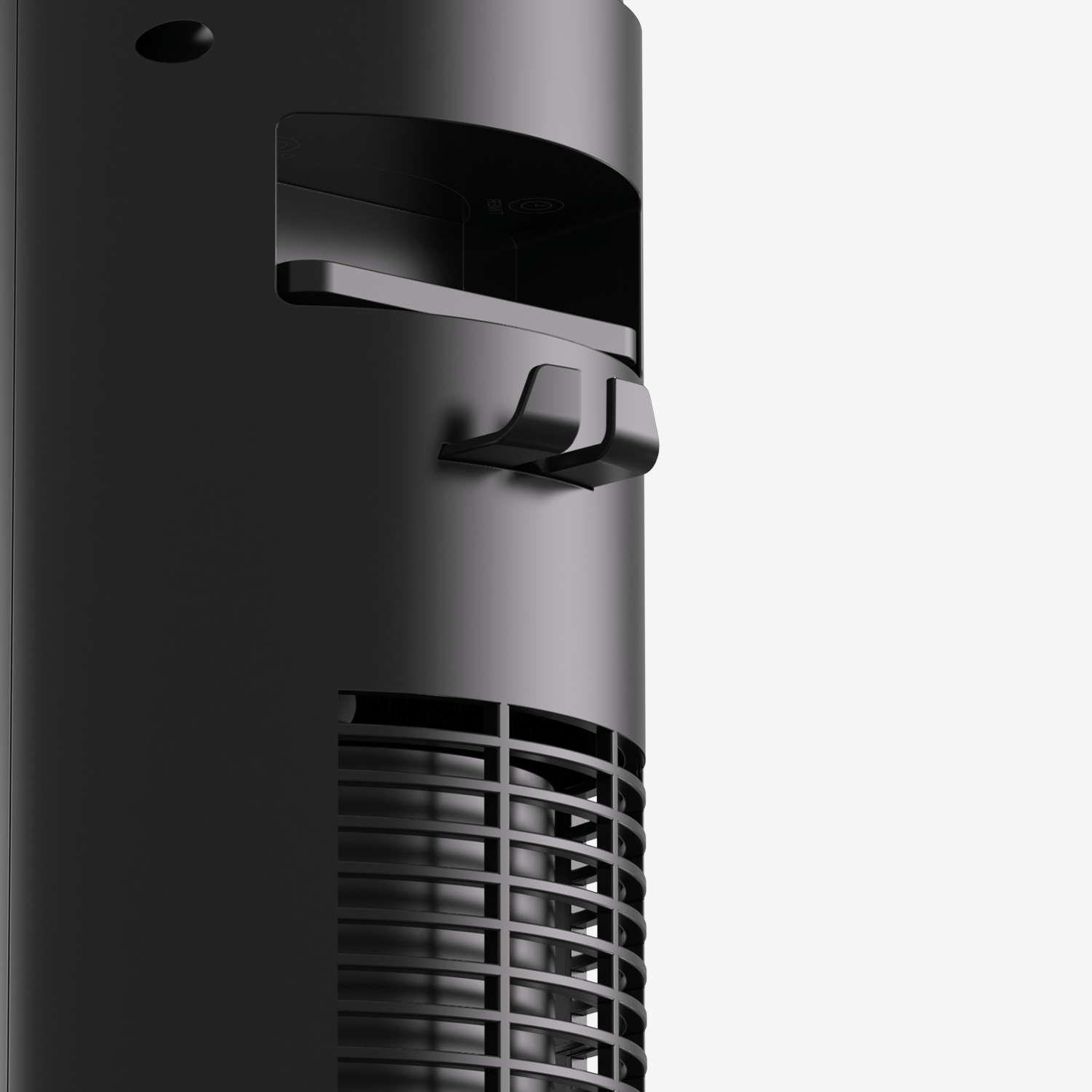 46" Oscillating Tower Fan with Remote – 3 Speeds, 4 Operational Modes and 12 Hour Timer
Quickly cool large spaces such as living rooms, offices, or garages with the 46" Oscillating Tower Fan. This tall and powerful fan uses a strong motor and wide oscillation to deliver cool air rapidly.
This 46" Oscillating Tower Fan comes in an extra tall frame for ultra-powerful cooling in seconds. It features a 45W motor combined with 70° wide-angle oscillation, 3 efficient fan speeds and 4 operating modes for adaptable cooling. The up to 12-hour built-in auto-shut off timer and energy-saving sleeping mode make this an ideal bedroom fan. The slimline, elegant design is also complemented by an easy-to-use display and wireless remote control to personalise your cooling.

Premium Cooling: This ultra-powerful 45W tower fan boasts a large 46-inch frame and wide 70° oscillation, perfect for circulating a cold, high-powered breeze across large rooms.
3 Fan Speeds: Equipped with 3 efficient fan speeds including low, medium and high power.
4 Operation Modes: Select from Fan, Child, Natural, or our energy-saving Sleep Mode which keeps you cool and comfortable whilst reducing energy consumption overnight.
Remote Control: Adjust the air speed, oscillation, and timer from across the room effortlessly with the wireless remote.
Built-in Timer: The 12-hour automatic on/off timer is perfect for helping you remain cool during the day and overnight whilst also saving money and power
Elegant Modern Design: Combines quality, safety and performance, featuring a strong space-saving base and slim modern design.
Useful: Lightweight, portable and easy to assemble, it slots perfectly into any home or office.
Dimensions

12.4 x 12.4 x 40.1 in

Maximum Room size

Medium

Noise Level

54 dBA

Oscillation

70°

Power Cord Length

4.9 ft including plug

Power Voltage

120V

Timer

Yes (12hr)

Weight

8.07 lbs

Wind Velocity

2.96 m/s

Fan Speed Settings

3

Speed Settings

3 m/s

Remote Control

Yes

Touch Panel

Both
Free Standard Shipping
All orders placed in the United States and Canada will be delivered in 3-5 working days . Orders are typically dispatched within 1 working day and you'll receive a shipping confirmation email once your order has been shipped.
Returns
Orders can be returned within 30 days of the original purchase date, provided the order is unused and unopened. Please follow the steps here to return your order.
If you're concerned that your product is faulty, please contact our Customer Care Team here.
Compare with similar items
Dimensions

12.4 x 12.4 x 40.1 in

Weight

8.07 lbs

Noise level

54 dBA

Power voltage

120V

Wind velocity

2.96 m/s

Oscillation

70°

Power cord length

4.9 ft including plug

Speed Settings

3 m/s

Touch Panel

Both

Remote Control

Yes

Fan speed settings

3

Maximum room size

Medium
Dimensions

11.42 x 11.42 x 40 in

Weight

8.38 lbs

Noise level

≤55 dBA

Power voltage

120V

Wind velocity

6.78 m/s

Oscillation

60°

Power cord length

1.5 m

Speed Settings

3 m/s

Touch Panel

Both

Remote Control

Yes

Fan speed settings

3
Dimensions

12.4 x 12.4 x 40.1 in

Weight

8.07 lbs

Noise level

54 dBA

Power voltage

120V

Wind velocity

2.96 m/s

Oscillation

70°

Power cord length

4.9 ft including plug

Speed Settings

3 m/s

Touch Panel

Both

Remote Control

Yes

Fan speed settings

3

Maximum room size

Medium
Dimensions

11.42 x 11.42 x 40 in

Weight

8.38 lbs

Noise level

≤55 dBA

Power voltage

120V

Wind velocity

6.78 m/s

Oscillation

60°

Power cord length

1.5 m

Speed Settings

3 m/s

Touch Panel

Both

Remote Control

Yes

Fan speed settings

3