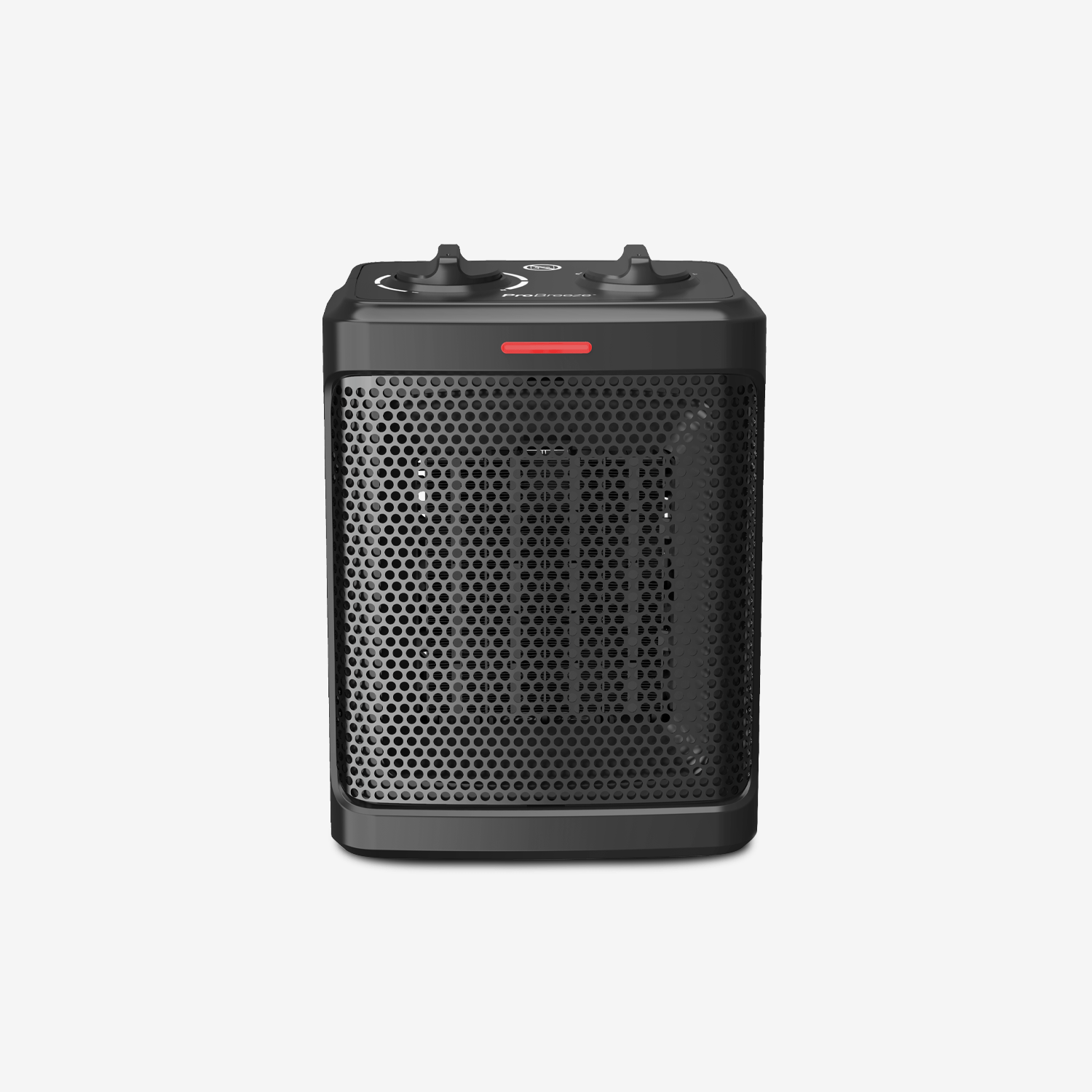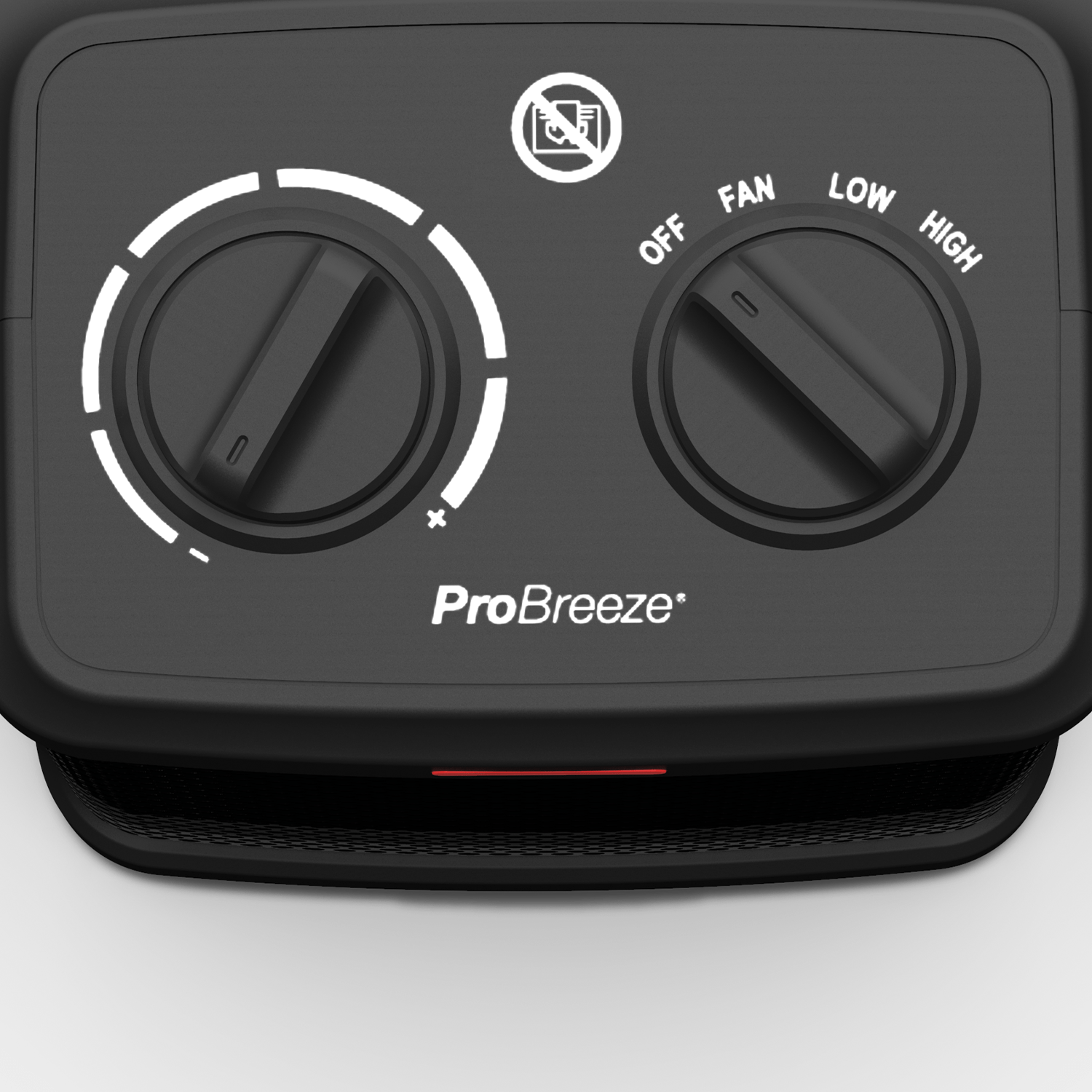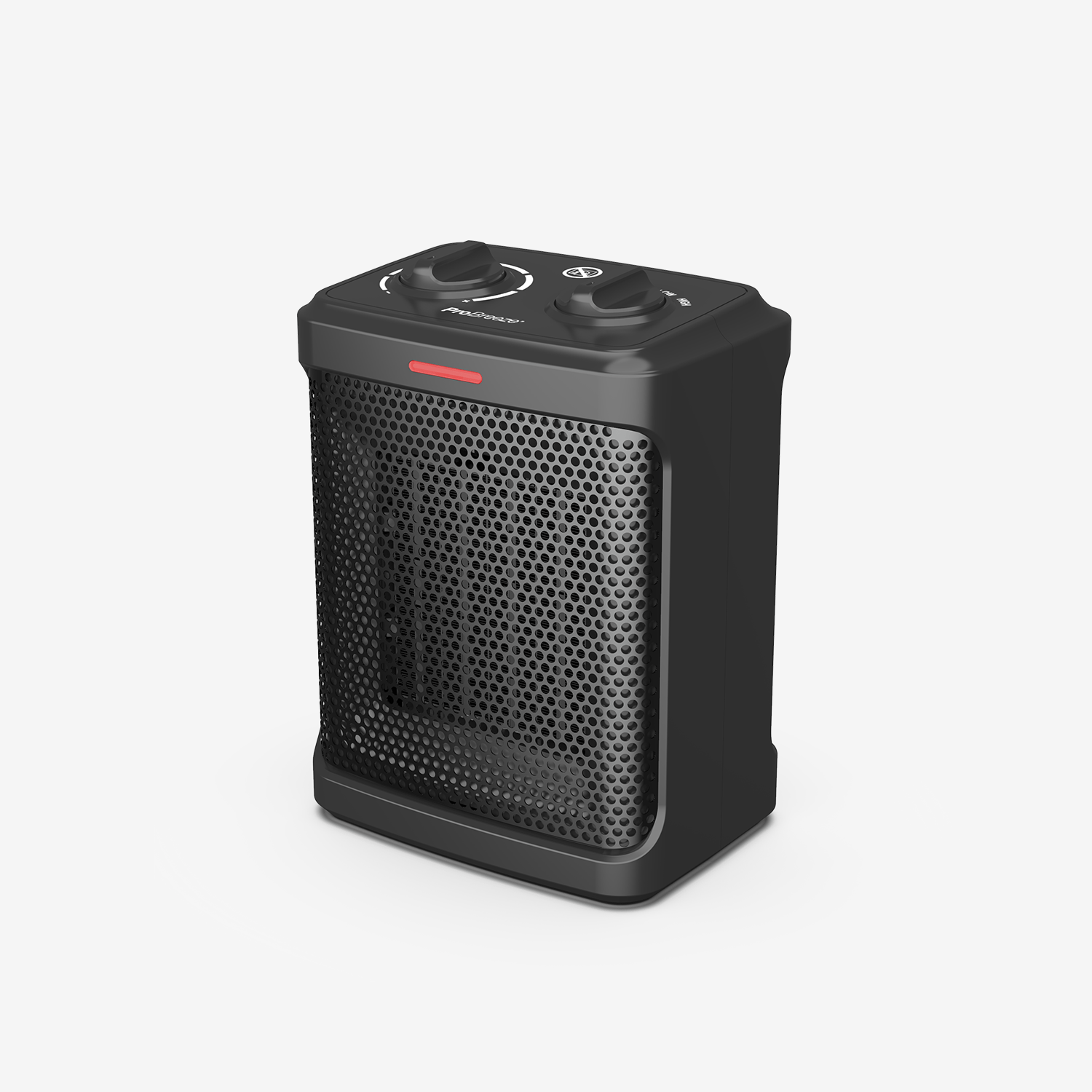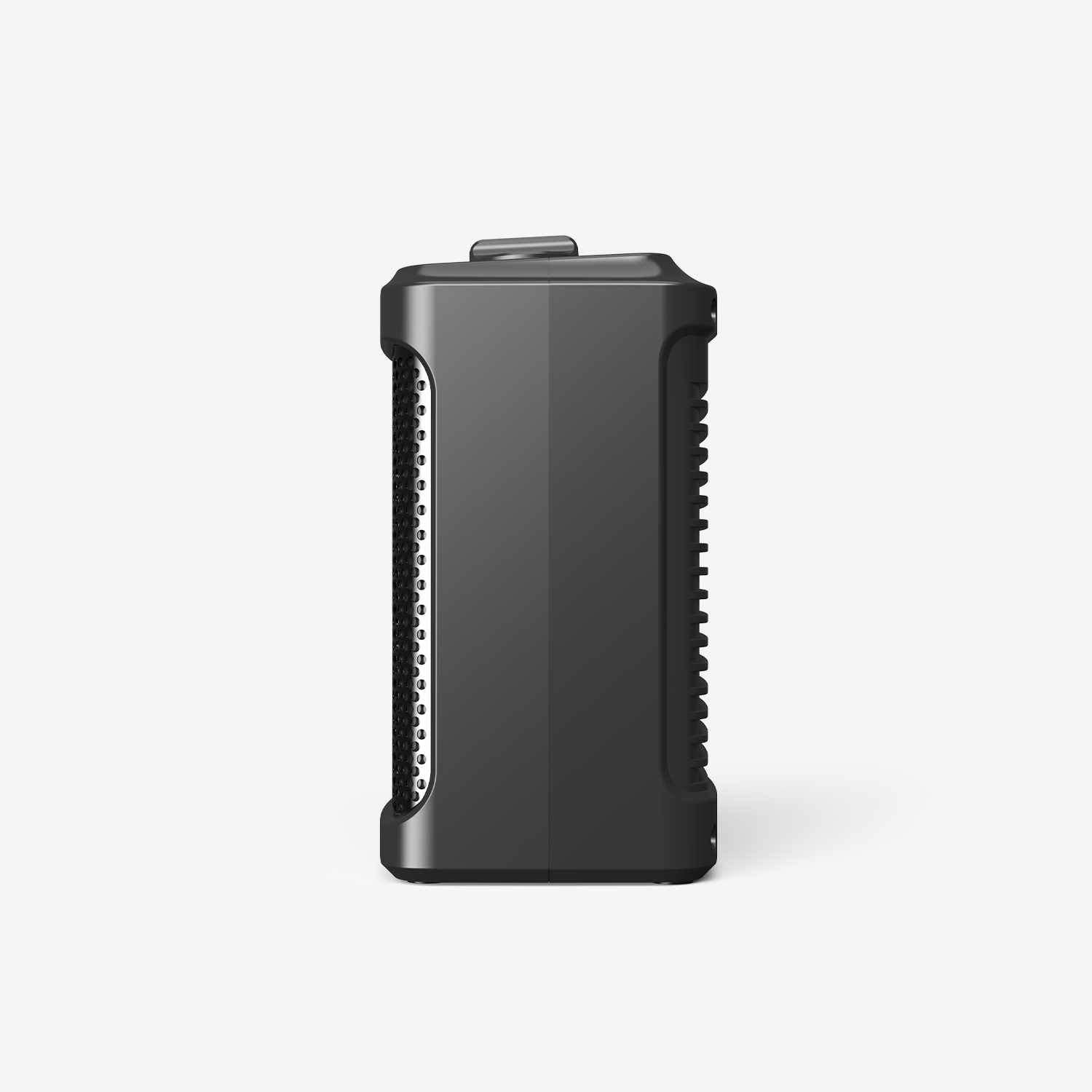 1500W Mini Ceramic Space Heater with 3 Operating Modes and Adjustable Thermostat - Black
Whether working, studying, or relaxing, this 1500W Mini Ceramic Space Heater is perfect for quickly heating your personal space. Featuring low energy consumption and three modes, the mini heater can be transported from room to room for maximum efficiency.
This 1500W Mini Ceramic Space Heater is purposefully designed to warm up your personal space without affecting others around you - ideal for placing on a table or desk at home and work. It utilises the latest ceramic heating technology to provide faster, safer and more energy-efficient heat than a regular fan heater. A 1500W ceramic heating element effectively heats your space whilst remaining low in wattage for low energy consumption. Overheat protection and an anti-tip-over switch ensure the heater instantly switches off in unsafe conditions for peace of mind.

Ceramic Technology: Utilises ceramic heating to provide faster, safer, and more efficient heat than a regular fan heater.
Adjustable Thermostat: An easy-to-use and fully adjustable thermostat control is built into the mini heater to monitor the surrounding air temperature and shut off after reaching the desired temperature, ensuring optimal heating efficiency.
3 Power Settings & Fan Only Mode: Includes 1500W (high) and 750W (low) power modes as well as a gentle fan-only mode. Reduce your energy bills by using this space heater to heat individual rooms rather than expensively heating your entire home or office.
Advanced Safety Features: Built-in overheat protection and an enhanced anti-tip over switch ensure the heater instantly switches off in an unsafe situation, giving you complete peace of mind.
Lightweight & Portable: The lightweight and compact design allows the small heater to be transported to wherever you needed it most, making it perfect use in homes, garages and offices.
Dimensions

6.4 x 4.7 x 8.77 in

Energy Consumption

0.75/1.5 kW·h

Max Output

1500W

Maximum Room size

Small

Noise Level

56.7 dBA

Oscillation

No

Output Settings

750W/1500W

Overheat Protection

Yes

Power Cord Length

70.87 in

Power Voltage

120V

Thermostat

Yes

Timer

No

Tip Over Switch

Yes

Type

Ceramic Fan

Weight

2.87 lbs
Free Standard Shipping
All orders placed in the United States and Canada will be delivered in 3-5 working days . Orders are typically dispatched within 1 working day and you'll receive a shipping confirmation email once your order has been shipped.
Returns
Orders can be returned within 30 days of the original purchase date, provided the order is unused and unopened. Please follow the steps here to return your order.
If you're concerned that your product is faulty, please contact our Customer Care Team here.
Compare with similar items
Dimensions

6.4 x 4.7 x 8.77 in

Weight

2.87 lbs

Type

Ceramic Fan

Energy Consumption

0.75/1.5 kW·h

Noise level

56.7 dBA

Overheat protection

Yes

Power voltage

120V

Max output

1500W

Output settings

750W/1500W

Thermostat

Yes

Timer

No

Tip over switch

Yes

Maximum room size

Small
Dimensions

6.77 x 5.06 x 10.79 in

Weight

3.13 lbs

Type

Ceramic Fan with Oscillation

Energy Consumption

0.75/1.5 kW·h

Noise level

58 dBA

Overheat protection

Yes

Power voltage

120V

Max output

1500W

Output settings

750W/1500W

Thermostat

Yes

Timer

No

Tip over switch

Yes

Maximum room size

Small
Dimensions

6.4 x 4.7 x 8.77 in

Weight

2.87 lbs

Type

Ceramic Fan

Energy Consumption

0.75/1.5 kW·h

Noise level

56.7 dBA

Overheat protection

Yes

Power voltage

120V

Max output

1500W

Output settings

750W/1500W

Thermostat

Yes

Timer

No

Tip over switch

Yes

Maximum room size

Small
Dimensions

6.77 x 5.06 x 10.79 in

Weight

3.13 lbs

Type

Ceramic Fan with Oscillation

Energy Consumption

0.75/1.5 kW·h

Noise level

58 dBA

Overheat protection

Yes

Power voltage

120V

Max output

1500W

Output settings

750W/1500W

Thermostat

Yes

Timer

No

Tip over switch

Yes

Maximum room size

Small