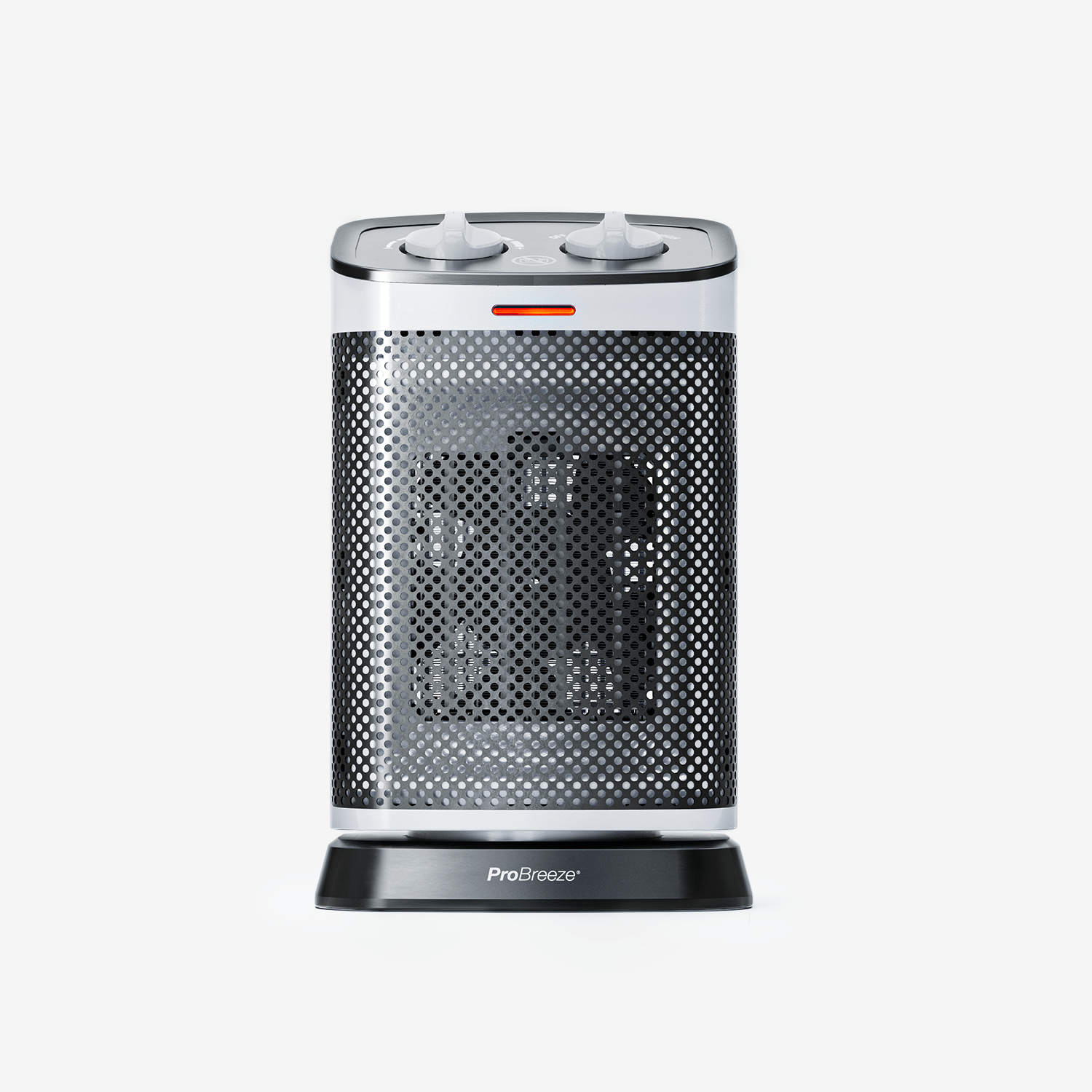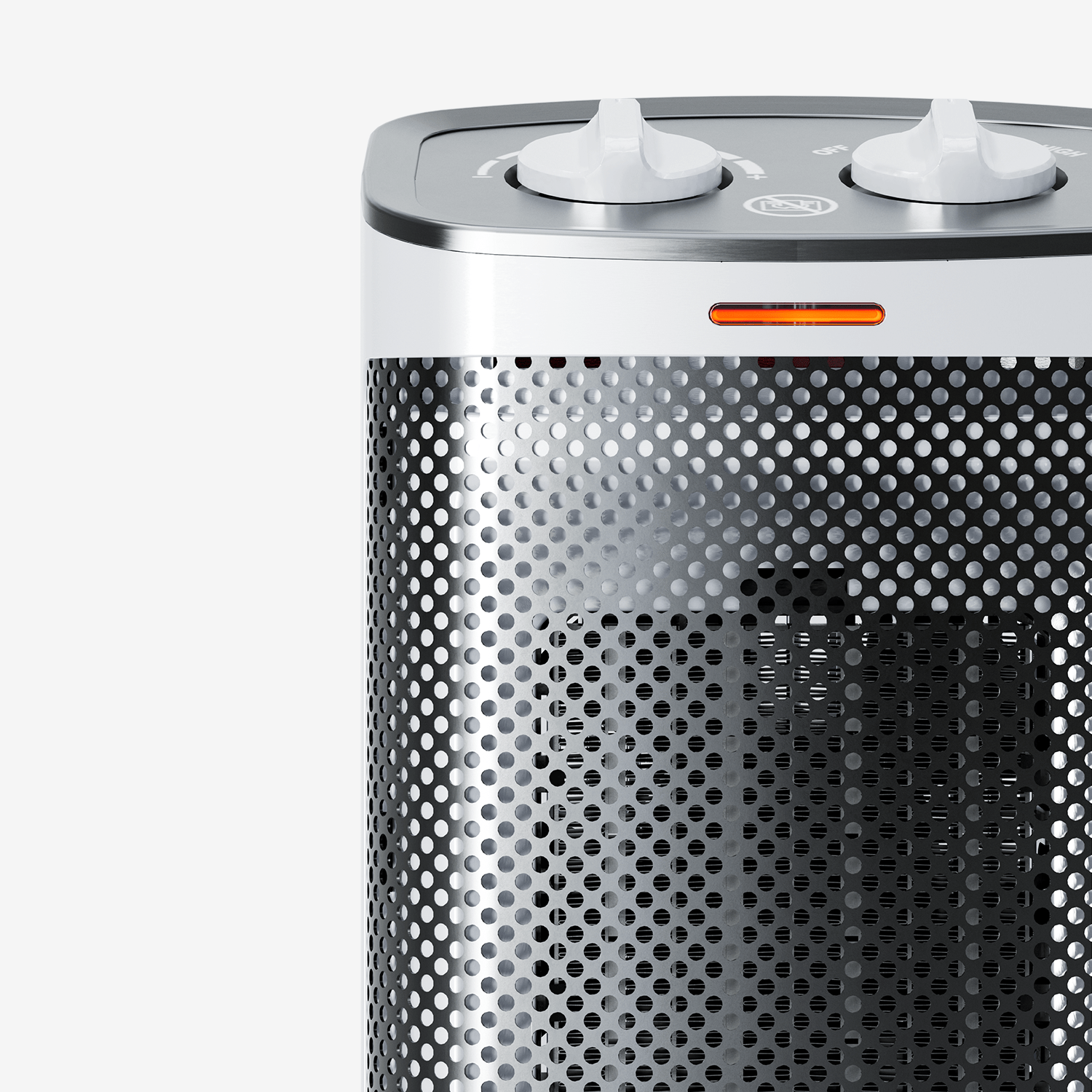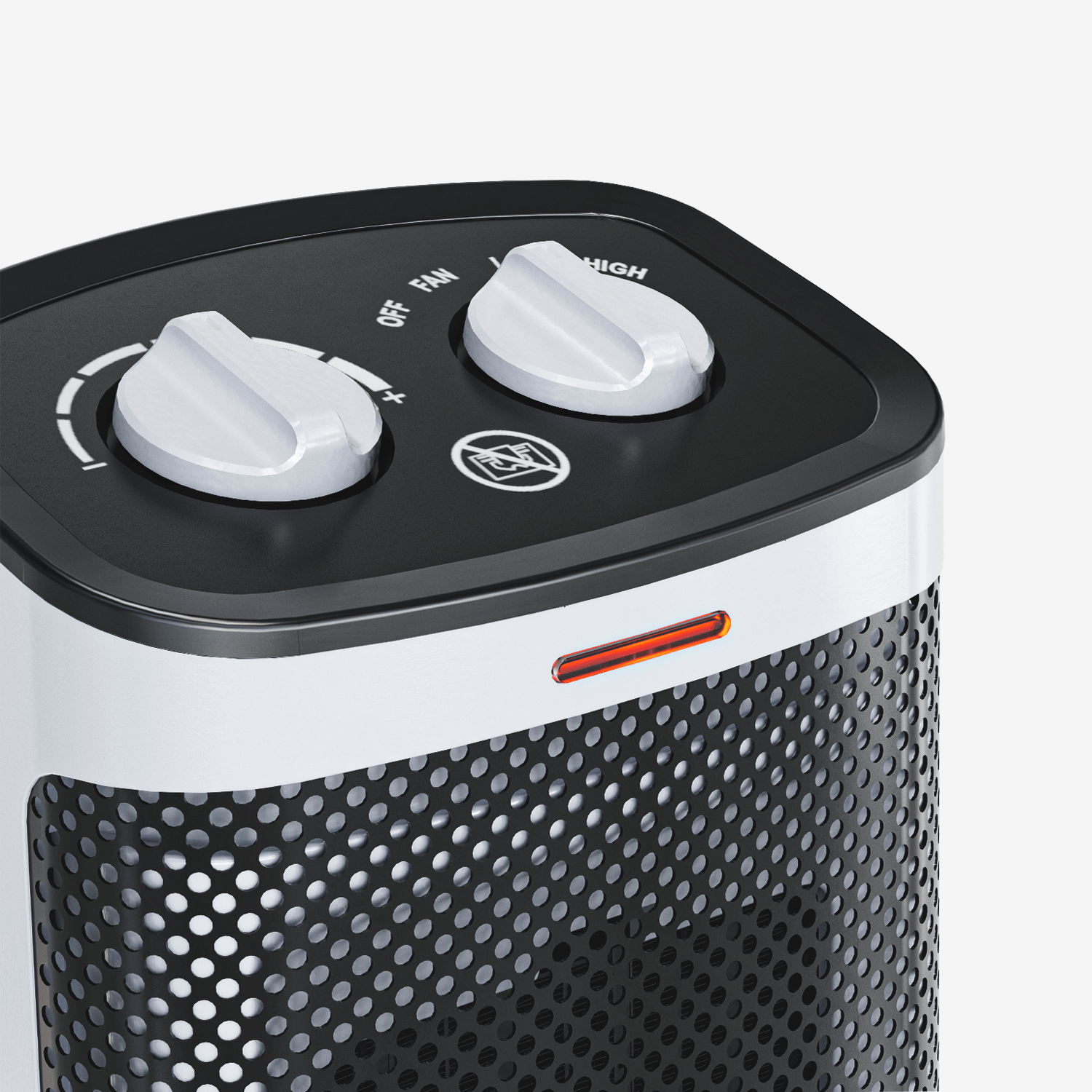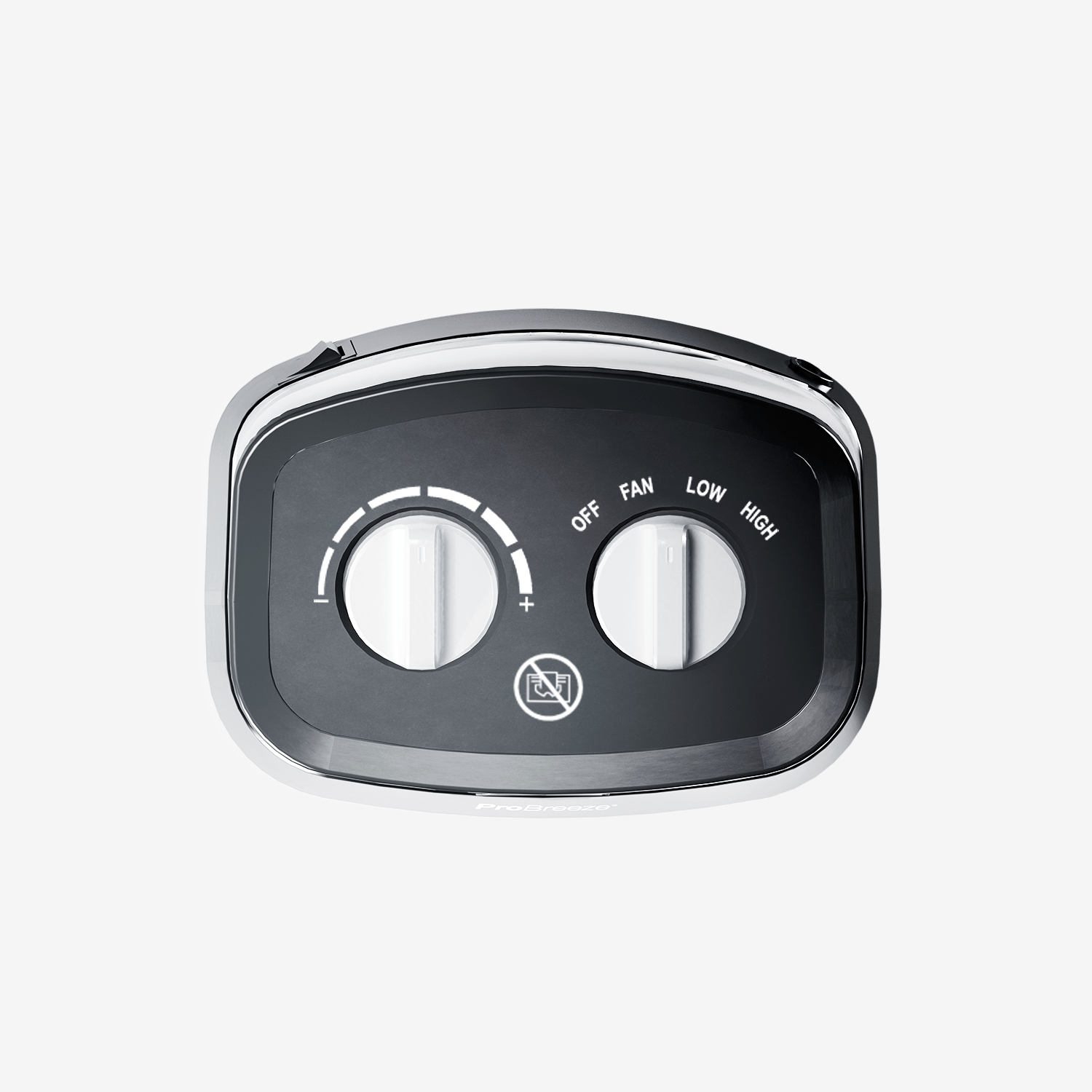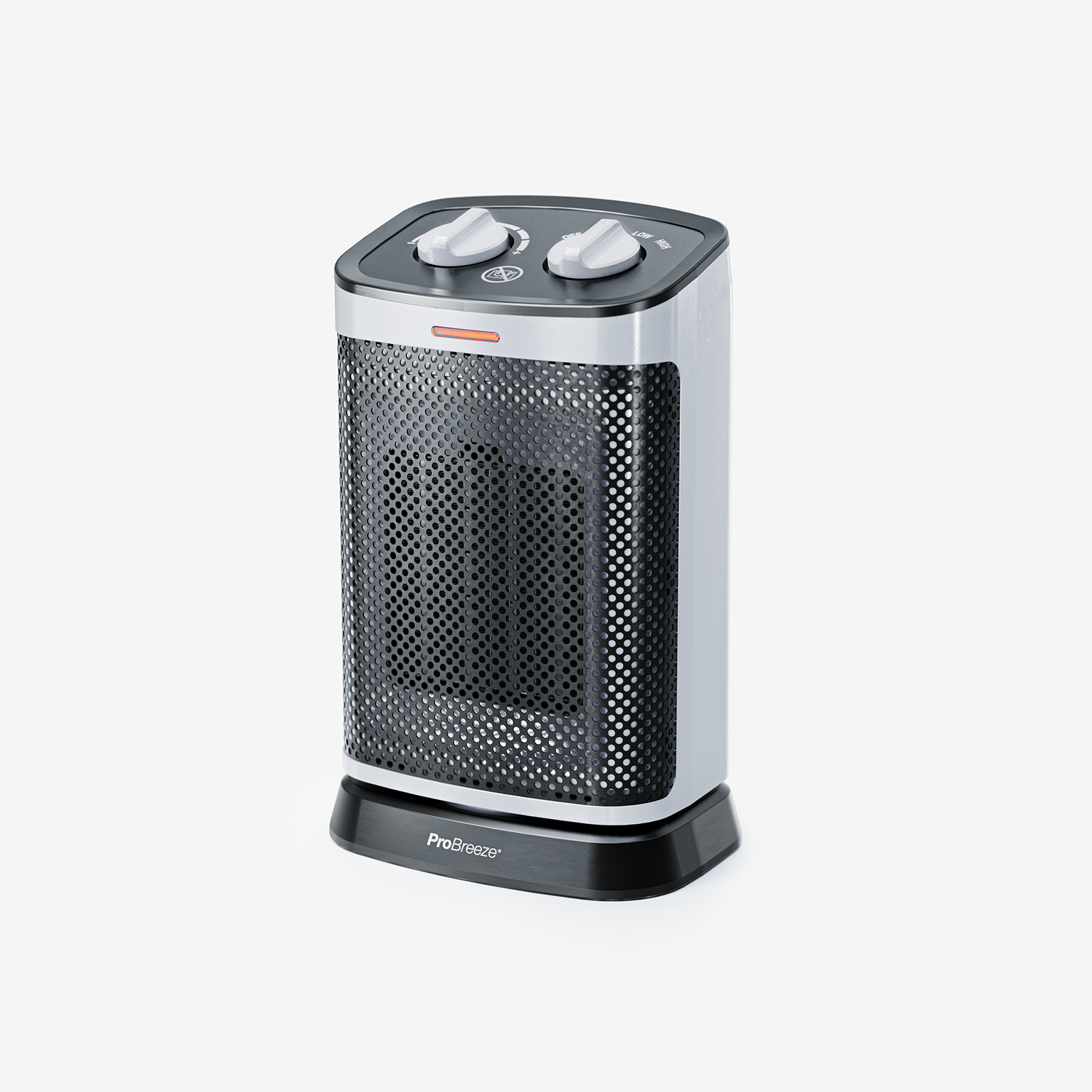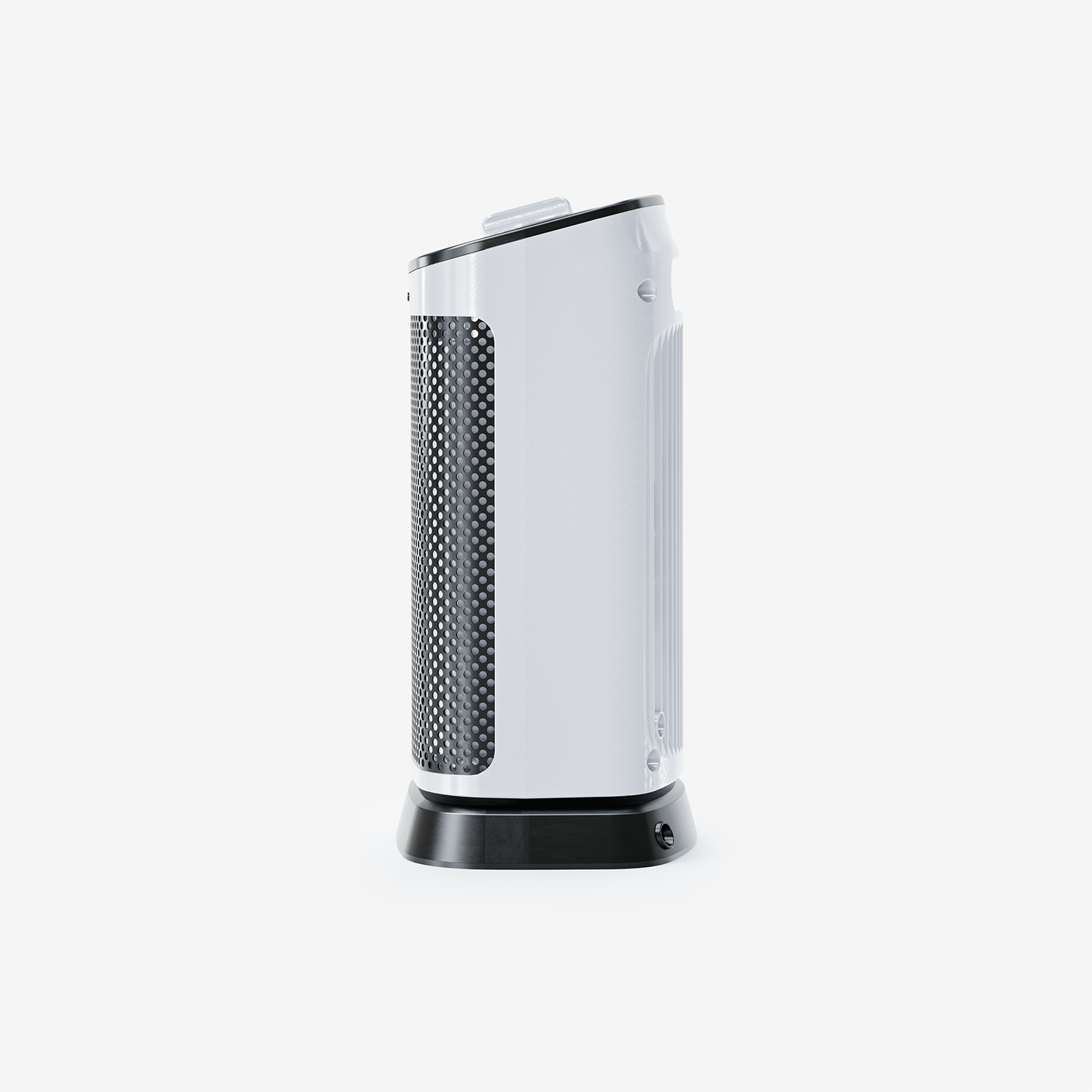 1500W Mini Oscillating Ceramic Space Heater - Rotates 70° with 6 Operation Modes
Introduce fast and energy-efficient heating to your personal space such as your bedroom or home office with this 1500W Mini Ceramic Heater. Utilising the latest ceramic heating technology, it's extremely portable for added convenience.
This 1500W Mini Ceramic Heater utilises advanced ceramic heating discs for ultra-warm heat transfer in small spaces and provides a faster, safer and more energy-efficient method of heating than traditional fan heaters. At the flick of a switch, the ceramic fan heater will rotate from side to side to quickly warm a wide area. Perfect for use in your personal space – on or under desks, next to your bed, at home or in the office.

Ceramic Technology: Engineered with advanced ceramic heating elements which provide faster and more efficient heating than traditional heaters, this electric heater is perfect for keeping you warm this winter.
6 Operating Modes & Oscillation: Features 750W (low) and 1500W (high) power modes as well as fan-only mode. With the flick of a switch, this electric heater will automatically rotate with a wide 70° coverage for room wide warming.
Adjustable Thermostat: An easy-to-use fully adjustable thermostat is built into the mini heater to monitor the surrounding air temperature to ensure optimal heating and energy efficiency.
Advanced Safety: Built in overheat protection and an enhanced tip-over switch ensures this indoor electric heater instantly switches off in any unsafe situation giving you complete peace of mind.
Ultra-Portable: This compact space heater features a lightweight and stylish design and with a quiet noise level of 58 dBA, is perfect for home, office, bedroom and under-desk use.
Dimensions

6.77 x 5.06 x 10.79 in

Energy Consumption

0.75/1.5 kW·h

Max Output

1500W

Maximum Room size

Small

Noise Level

58 dBA

Oscillation

70° Oscillation Angle

Output Settings

750W/1500W

Overheat Protection

Yes

Power Cord Length

70.87 in

Power Voltage

120V

Thermostat

Yes

Timer

No

Tip Over Switch

Yes

Type

Ceramic Fan with Oscillation

Weight

3.13 lbs
Free Standard Shipping
All orders placed in the United States and Canada will be delivered in 3-5 working days . Orders are typically dispatched within 1 working day and you'll receive a shipping confirmation email once your order has been shipped.
Returns
Orders can be returned within 30 days of the original purchase date, provided the order is unused and unopened. Please follow the steps here to return your order.
If you're concerned that your product is faulty, please contact our Customer Care Team here.
Compare with similar items
Dimensions

6.77 x 5.06 x 10.79 in

Weight

3.13 lbs

Type

Ceramic Fan with Oscillation

Energy Consumption

0.75/1.5 kW·h

Noise level

58 dBA

Overheat protection

Yes

Power voltage

120V

Max output

1500W

Output settings

750W/1500W

Thermostat

Yes

Timer

No

Tip over switch

Yes

Maximum room size

Small
Dimensions

6.4 x 4.7 x 8.77 in

Weight

2.87 lbs

Type

Ceramic Fan

Energy Consumption

0.75/1.5 kW·h

Noise level

56.7 dBA

Overheat protection

Yes

Power voltage

120V

Max output

1500W

Output settings

750W/1500W

Thermostat

Yes

Timer

No

Tip over switch

Yes

Maximum room size

Small
Dimensions

6.4 x 4.7 x 8.77 in

Weight

2.87 lbs

Type

Ceramic Fan

Energy Consumption

0.75/1.5 kW·h

Noise level

56.7 dBA

Overheat protection

Yes

Power voltage

120V

Max output

1500W

Output settings

750W/1500W

Thermostat

Yes

Timer

No

Tip over switch

Yes

Maximum room size

Small
Dimensions

6.77 x 5.06 x 10.79 in

Weight

3.13 lbs

Type

Ceramic Fan with Oscillation

Energy Consumption

0.75/1.5 kW·h

Noise level

58 dBA

Overheat protection

Yes

Power voltage

120V

Max output

1500W

Output settings

750W/1500W

Thermostat

Yes

Timer

No

Tip over switch

Yes

Maximum room size

Small
Dimensions

6.4 x 4.7 x 8.77 in

Weight

2.87 lbs

Type

Ceramic Fan

Energy Consumption

0.75/1.5 kW·h

Noise level

56.7 dBA

Overheat protection

Yes

Power voltage

120V

Max output

1500W

Output settings

750W/1500W

Thermostat

Yes

Timer

No

Tip over switch

Yes

Maximum room size

Small