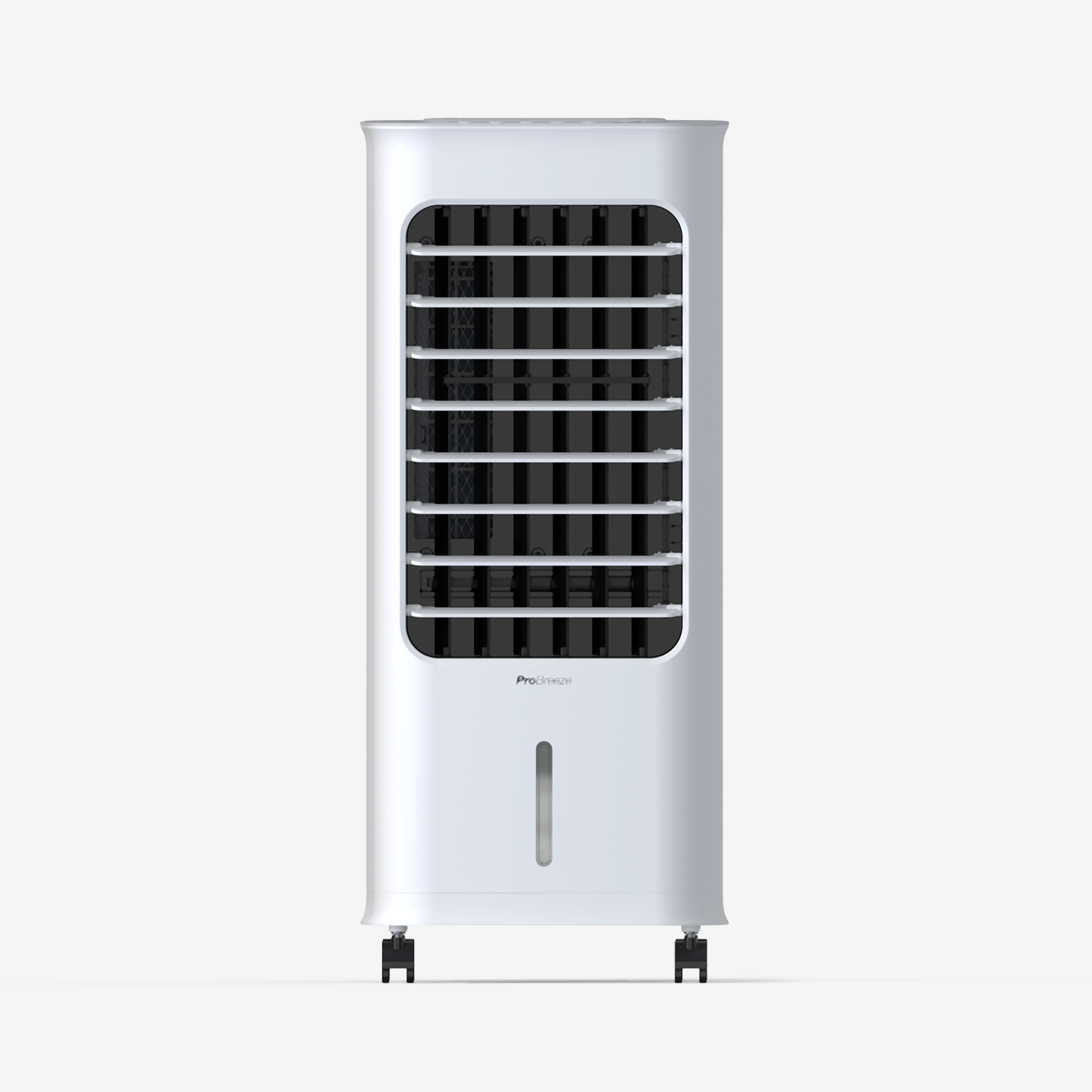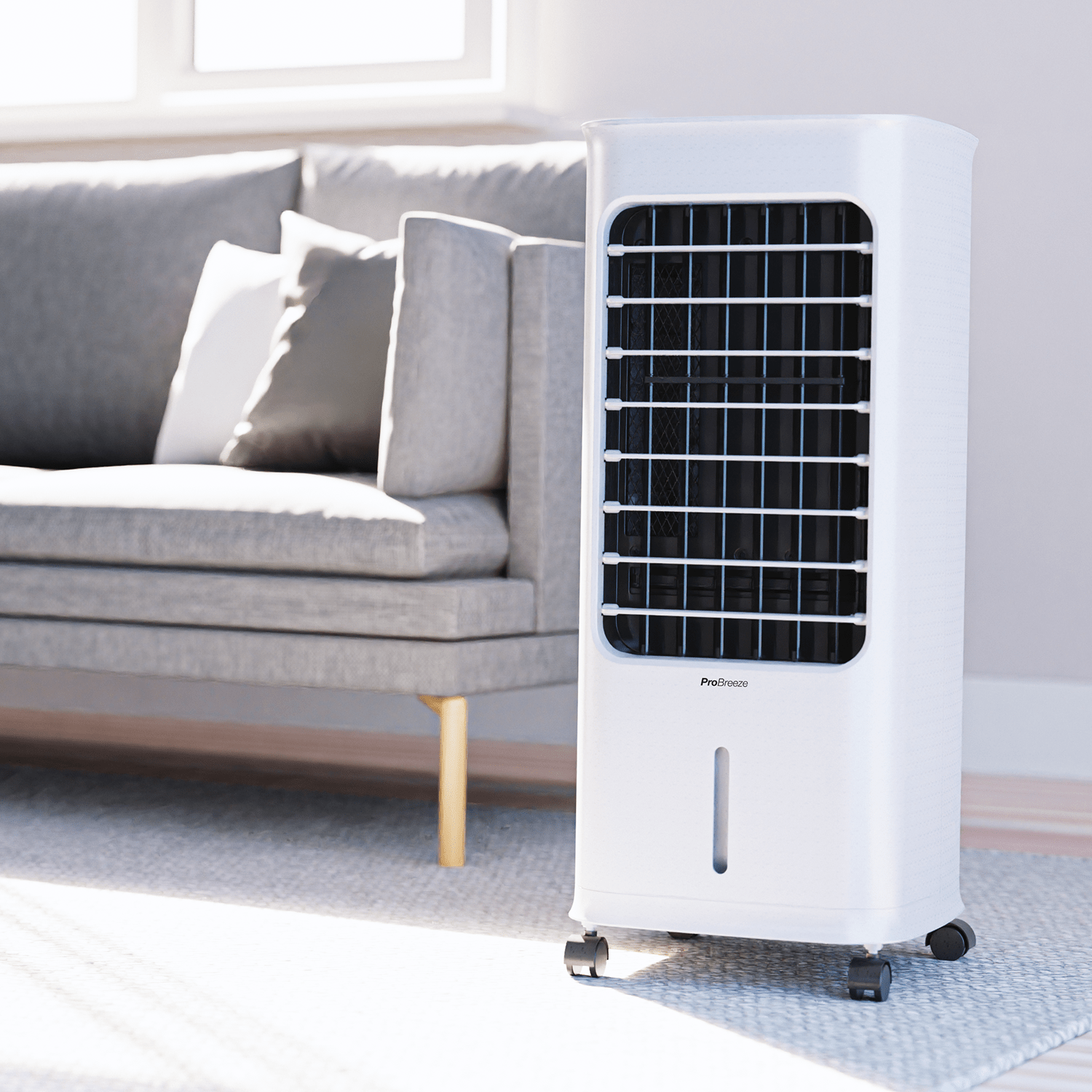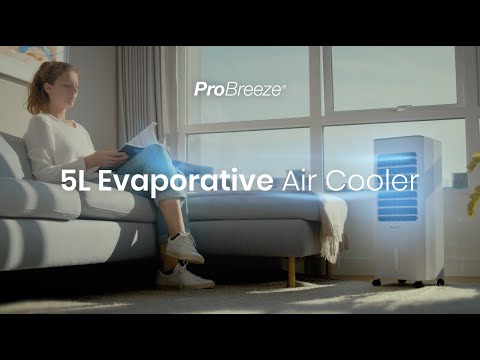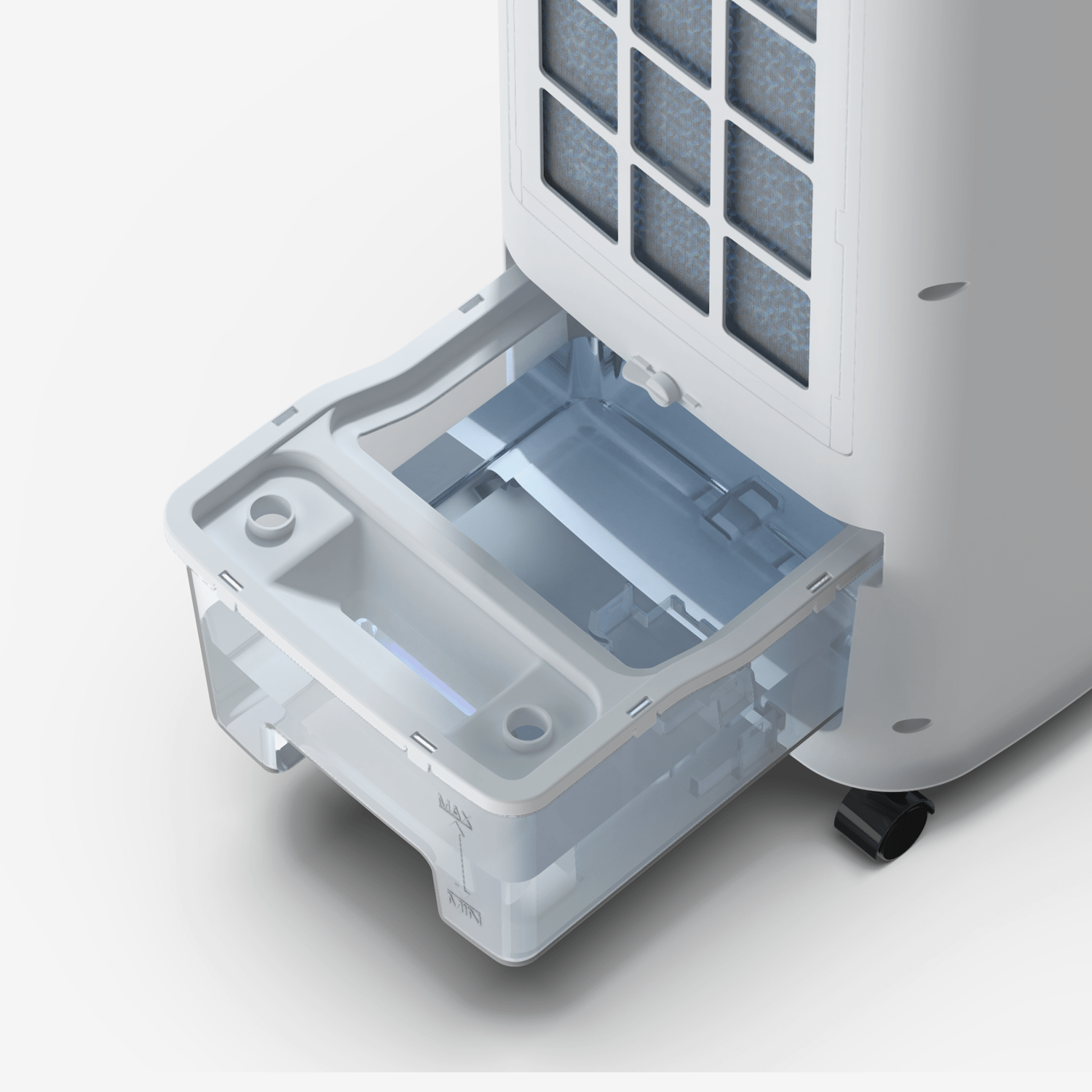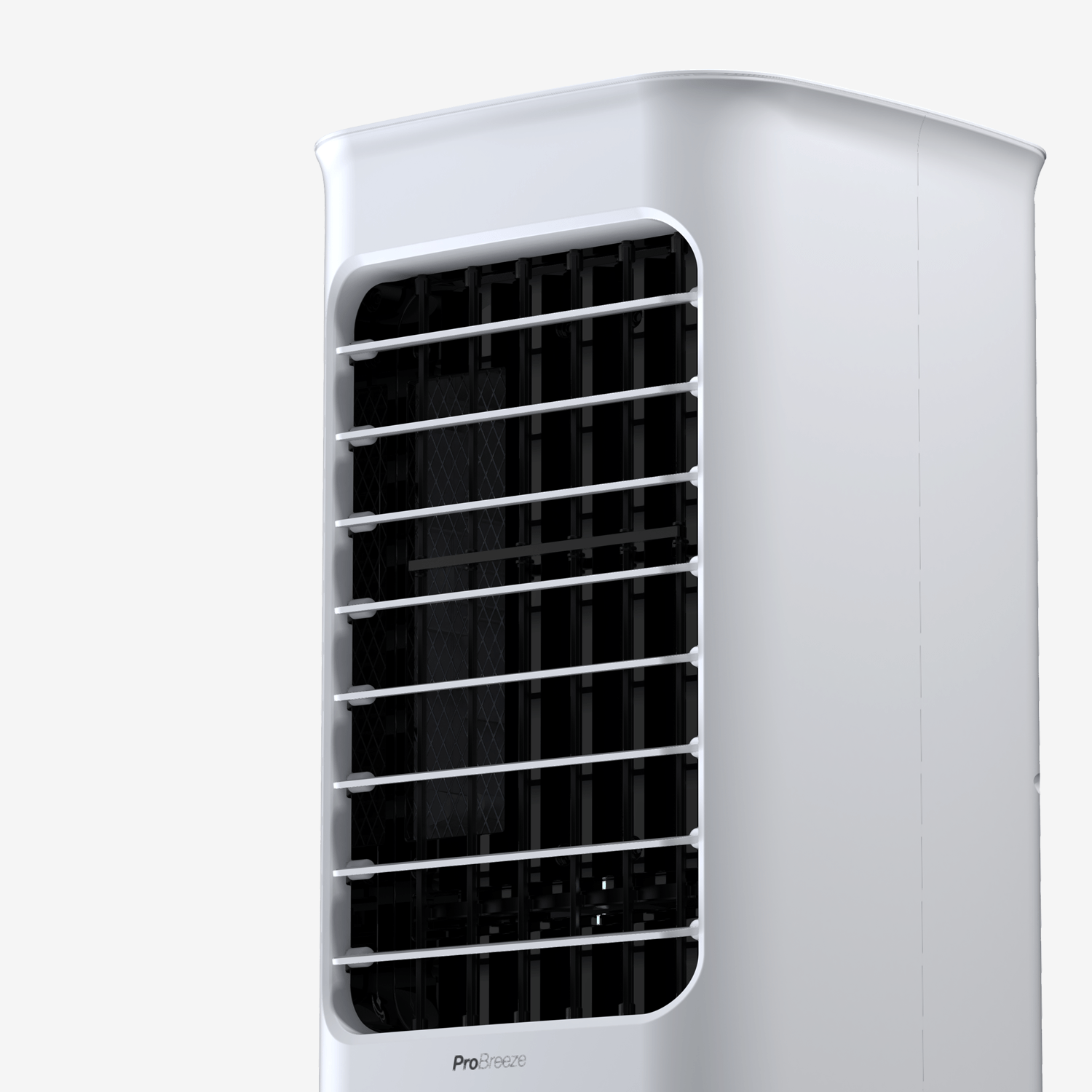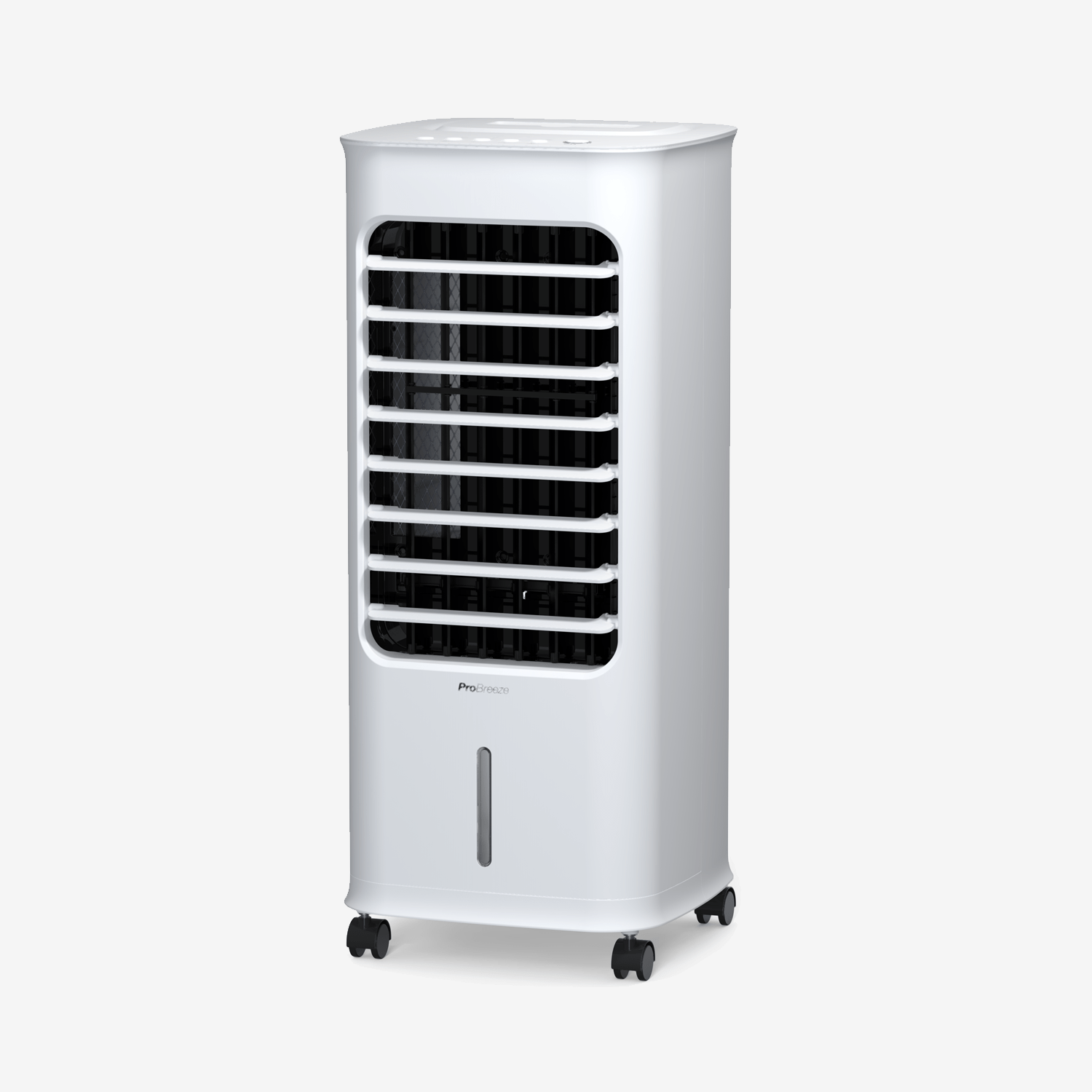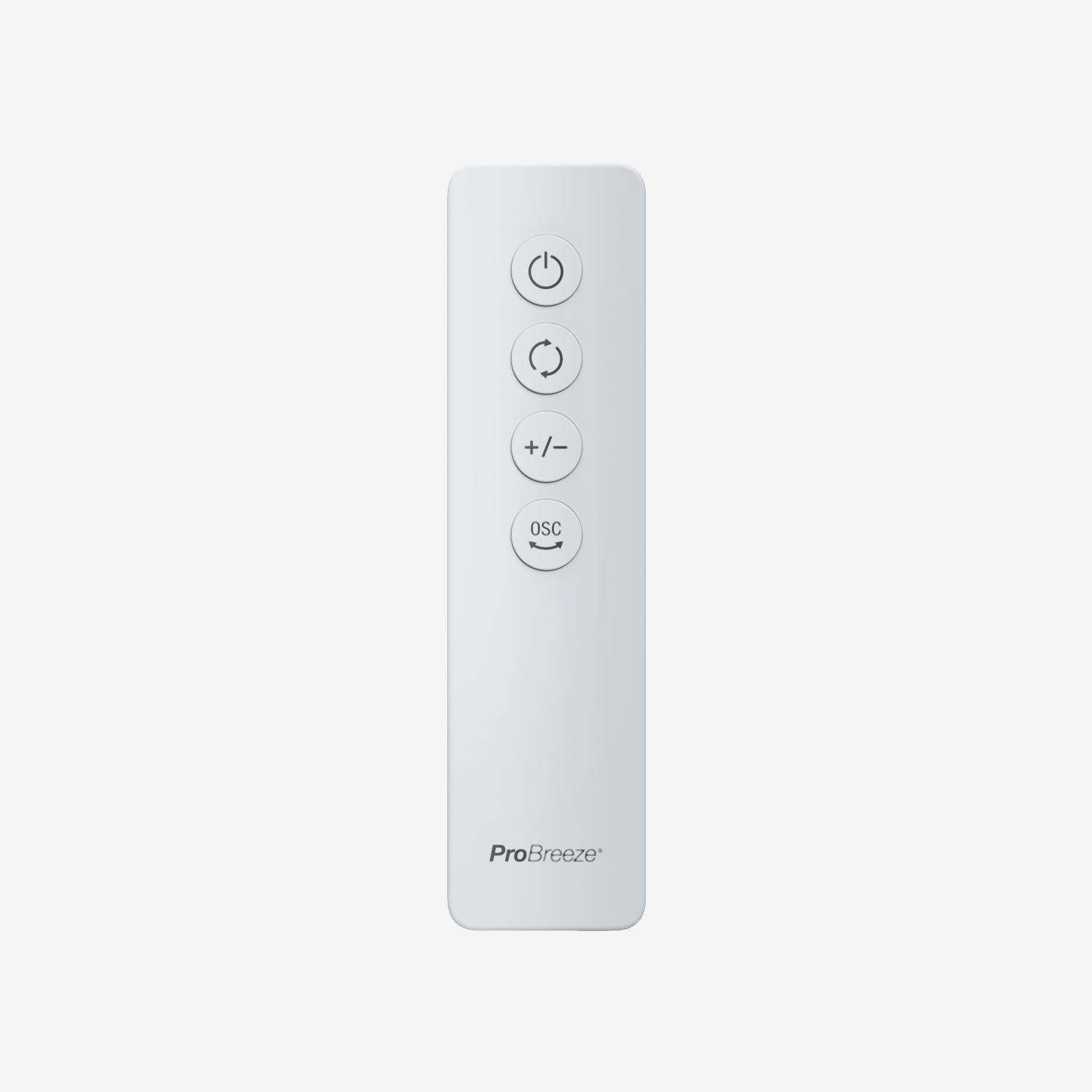 3-in-1 Air Cooler with 6 QTS Tank, 70° Oscillation & 7hr Timer
Keep your home comfortably cool in summer and warm-weather months with the 3-in-1 Air Cooler. Utilizing an advanced honeycomb system, the air cooler can be turned into a fan, air cooler or humidifier.
This 3-in-1 Air Cooler blows a powerful stream of ice-cold air into your room, home, office or gym. It utilizes an advanced honeycomb filter that passes warm air over ice-cold water – a system ideal for rooms that don't require expensive air conditioning. This 3-in-1 appliance can turn into a fan, an air cooler, or a humidifier and it features 3 fan speeds and 3 operating modes, including Natural, Fan Only, and Night mode.

Powerful Cooling: Uses innovative waterfall cooling technology to propel air through an ice-cold honeycomb filter. This arctic air cooler has a large 6 quarts water tank, 2 ice packs and can effectively cool up 200 sq ft.
Functional: 3 fan speeds and 70° oscillation, 3 different operating modes, including Natural mode Night Mode, and a timer, letting you set your room cooler air conditioner to operate for up to 7 hours.
Versatile: On warmer days use it as an ice cooler air conditioner, on milder days use it in fan-only mode, and on dry days take advantage of the humidification mode.
Save Space & Money: It runs at just 0.0065 kw/h, which is much more energy efficient than an air conditioner, which runs at around 0.5 kw/h. Stay cool, stay thrifty and stay eco-friendly with our cooling fan portable.
Portable: Easy to Store: Fitted with 4 durable caster wheels, and weighing a manageable 17lbs, it can be easily transported to any room in the home.
Dimensions

11.85 x 11.42 x 26 in

Energy Consumption

0.0065 kW·h

Filter

Yes

Noise Level

≤45 - ≤65 dBA

Oscillation

70°

Power Cord Length

150 cm

Power Voltage

120V

Remote Control Battery Type

AAA x 2 (included)

Timer Range

0-7 hr

Timer

1-7 hr

Type

Air Cooler

Ventilation Required

No

Water Tank Capacity

5L

Weight

13.3 lbs

Airflow Rate

270 m3/h

Remote Control

Yes
Free Standard Shipping
All orders placed in the United States and Canada will be delivered in 3-5 working days . Orders are typically dispatched within 1 working day and you'll receive a shipping confirmation email once your order has been shipped.
Returns
Orders can be returned within 30 days of the original purchase date, provided the order is unused and unopened. Please follow the steps here to return your order.
If you're concerned that your product is faulty, please contact our Customer Care Team here.
Compare with similar items
Dimensions

11.85 x 11.42 x 26 in

Weight

13.3 lbs

Type

Air Cooler

Power voltage

120V

Ventilation required

No

Airflow rate

270 m3/h
Dimensions

12.8 x 27.64 x 11.61 in

Weight

57.3 lbs

Maximum room size

300 sqft

Power voltage

115V

Cooling capacity

10000 BTU (Ashare)/ 6000 BTU (SACC)

Ventilation required

Yes - Window Kit Included

Moisture removal

4 Pint / Hr

Energy efficiency class

CEER

Type

Air Conditioner

Speed Settings

2

Remote Control

Yes

Available Temperature Setting Range

61-86°F

Hose Diameter

9mm(Inner), 11mm(Outer)

Hose Length

23.6 in

Heat Exhaust Hose Length

59 in
Dimensions

11.85 x 11.42 x 26 in

Weight

13.3 lbs

Type

Air Cooler

Power voltage

120V

Ventilation required

No

Airflow rate

270 m3/h
Dimensions

12.8 x 27.64 x 11.61 in

Weight

57.3 lbs

Maximum room size

300 sqft

Power voltage

115V

Cooling capacity

10000 BTU (Ashare)/ 6000 BTU (SACC)

Ventilation required

Yes - Window Kit Included

Moisture removal

4 Pint / Hr

Energy efficiency class

CEER

Type

Air Conditioner

Speed Settings

2

Remote Control

Yes

Available Temperature Setting Range

61-86°F

Hose Diameter

9mm(Inner), 11mm(Outer)

Hose Length

23.6 in

Heat Exhaust Hose Length

59 in