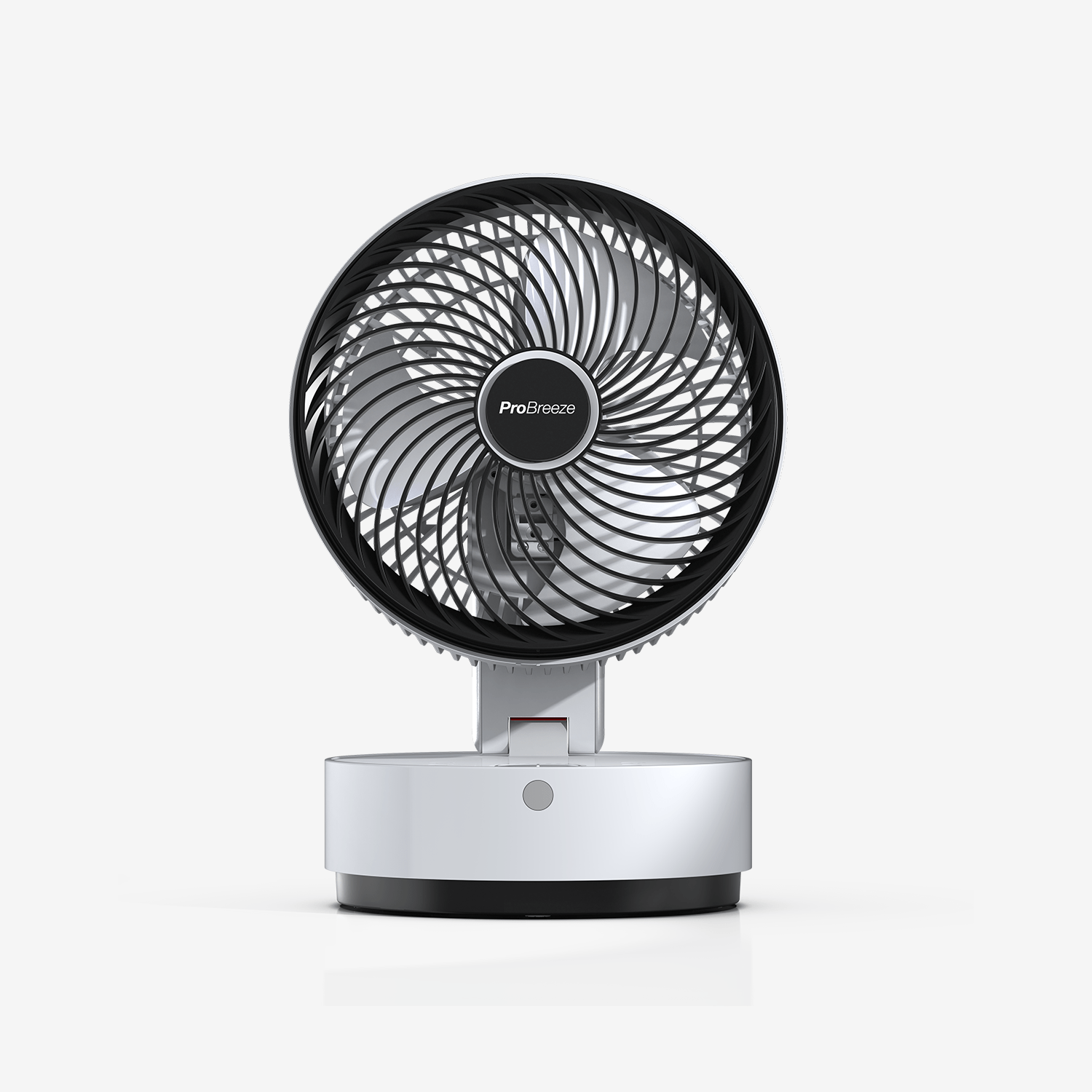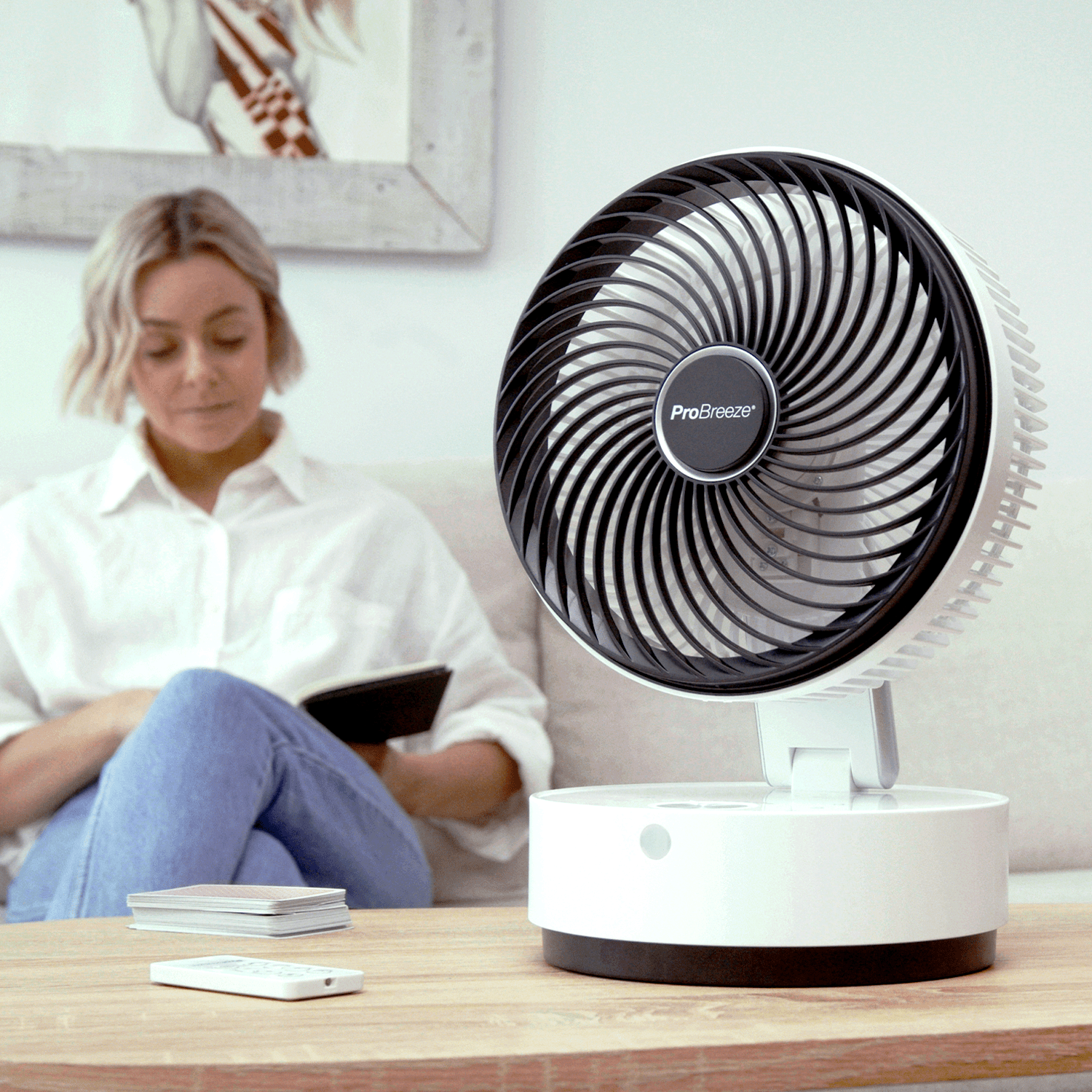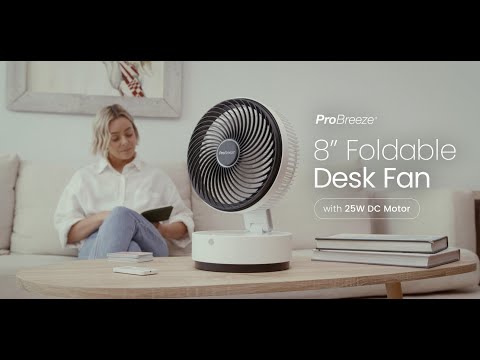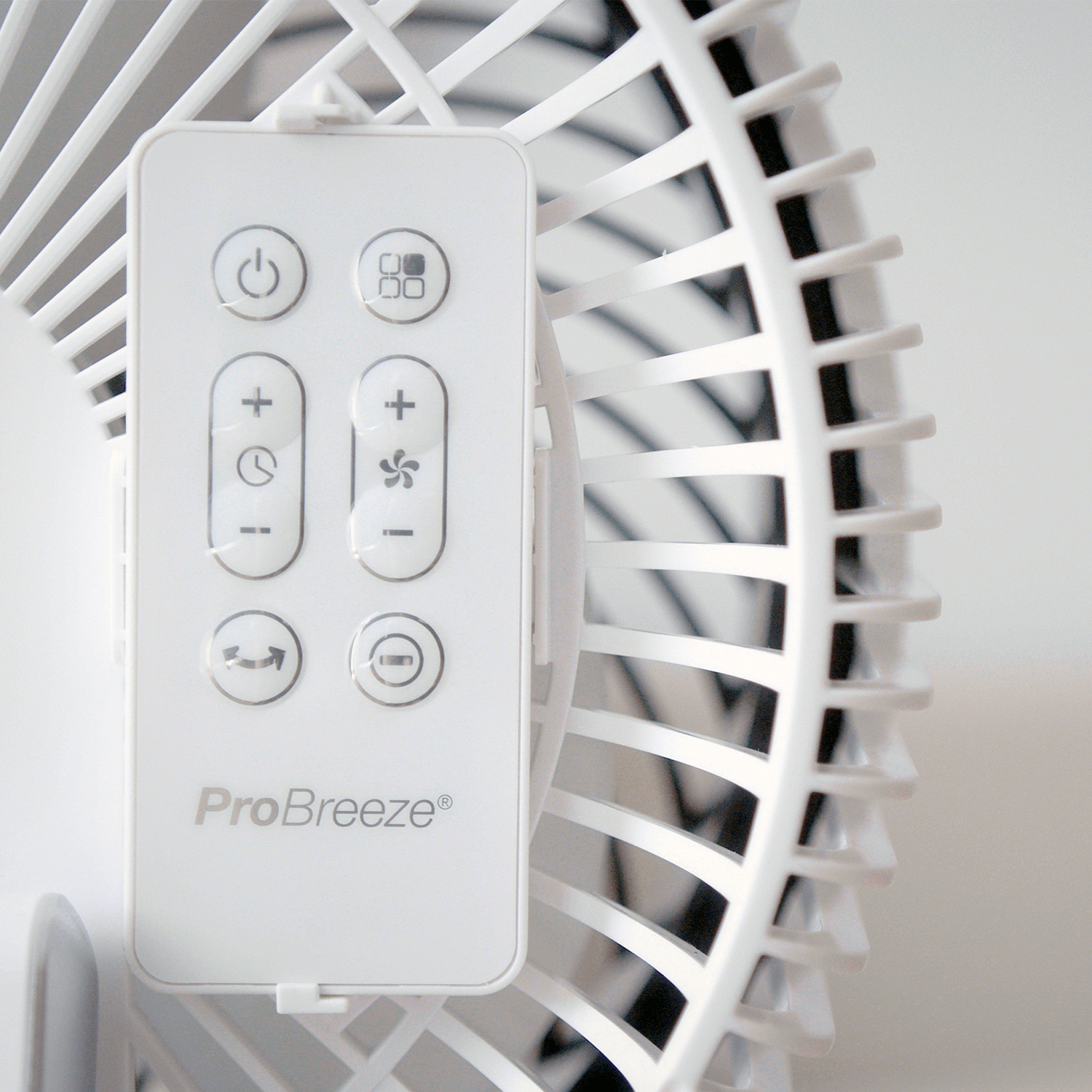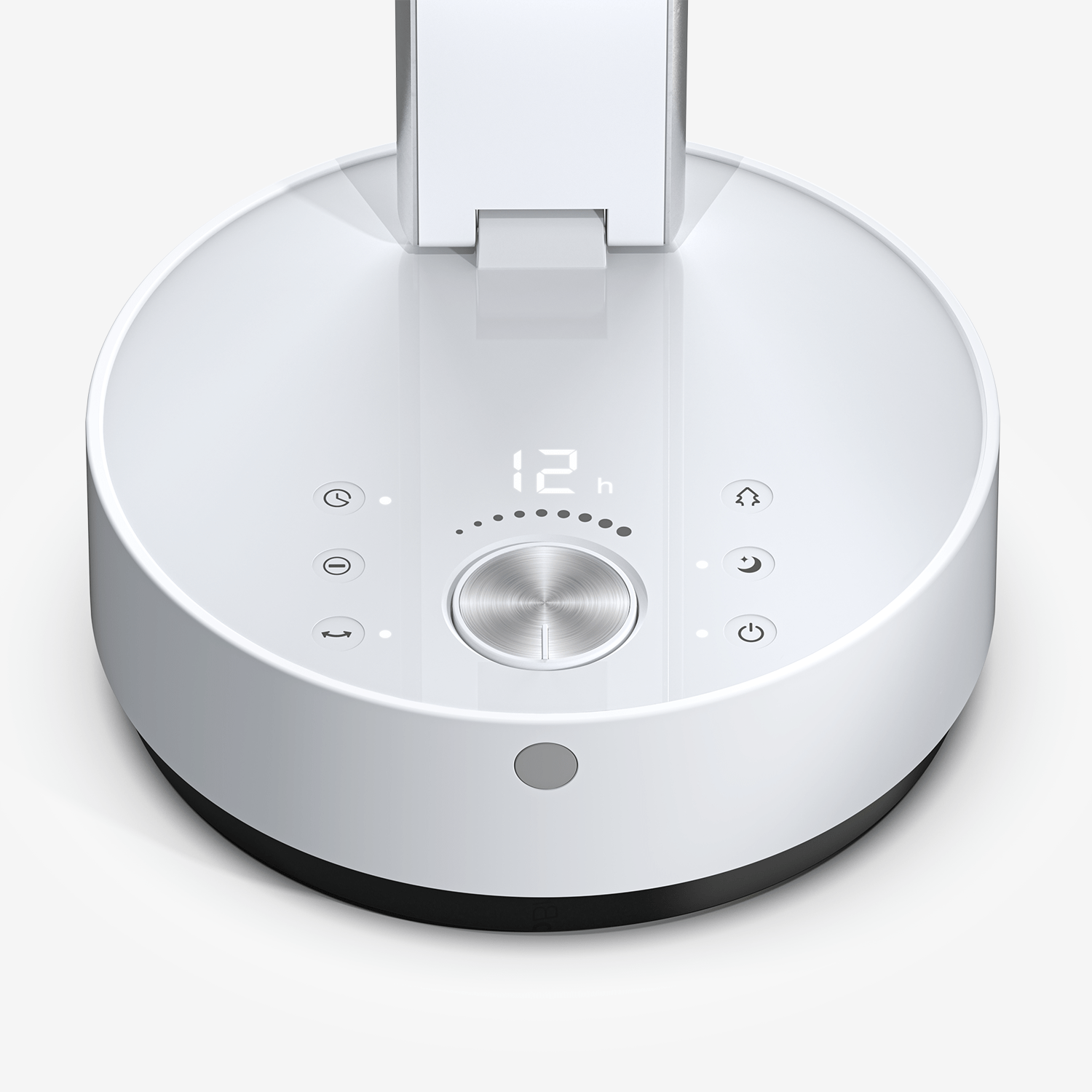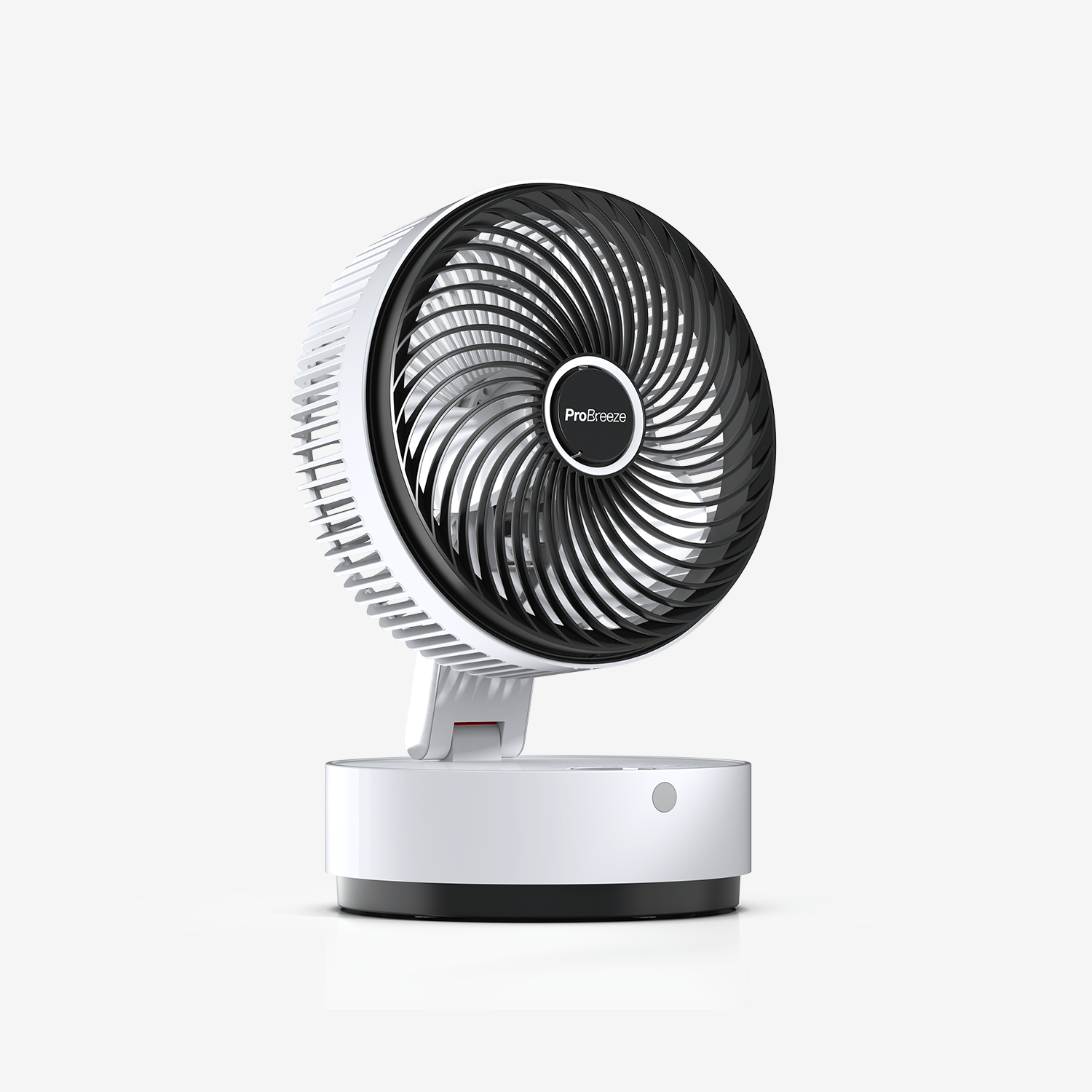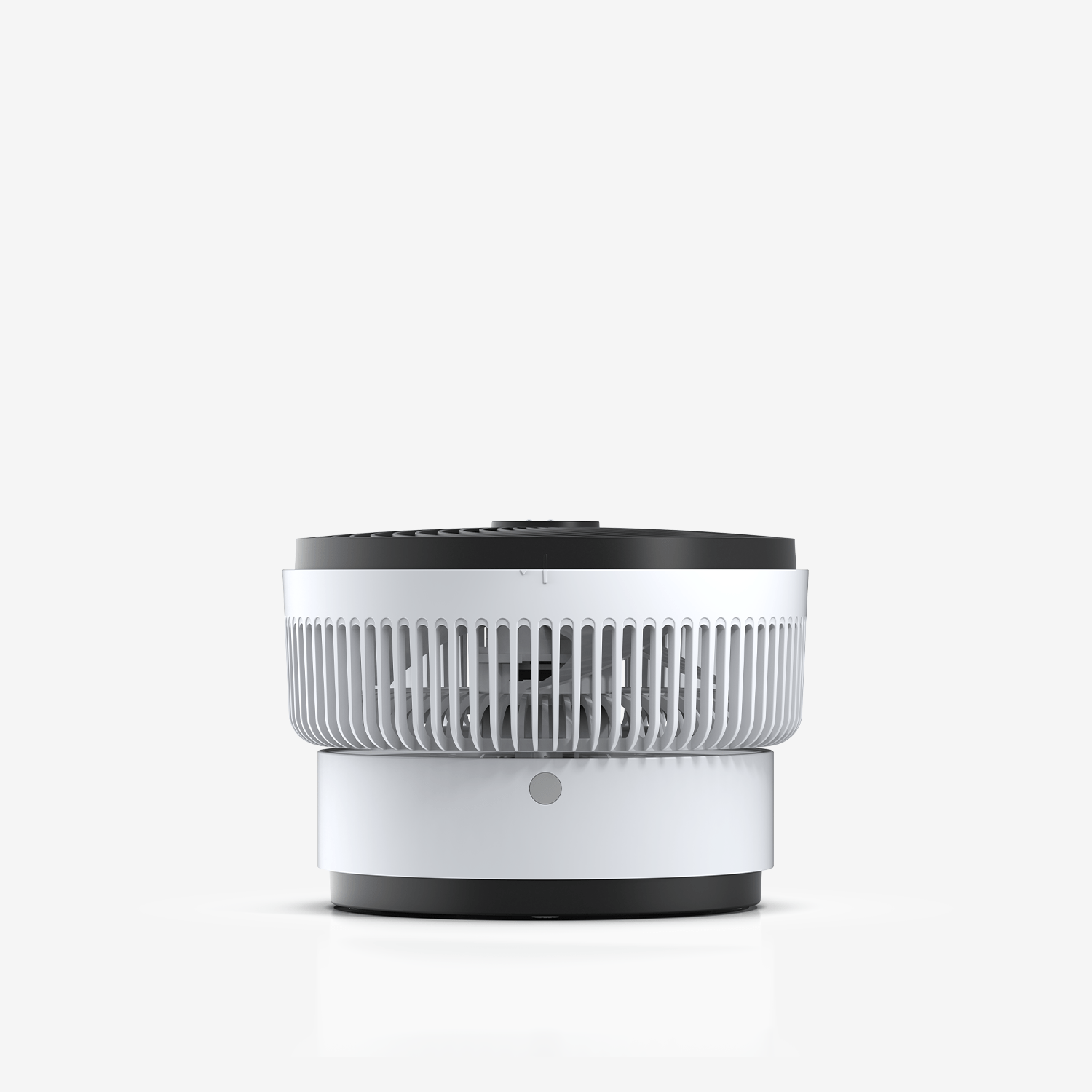 8" Turbo Desk Fan with 4 Operating Modes & 12 Hour Timer - White
This Turbo Desk Fan is ideal for providing a refreshing breeze while you work or study, without causing any disturbance. Its compact design makes it suitable for desk and tabletop placement, and it generates multi-directional air flow through a precise motor.
This Turbo Desk Fan is equipped with versatile 24 speeds, 4 operating modes, and a 12-hour timer with a wireless remote for optimal personal cooling. The precision-engineered 25W DC motor produces multi-directional air flow with independently controlled 180° vertical and 90° horizontal oscillation, suitable for rooms up to 100㎡. In night mode, this tabletop oscillating fan operates quietly at 30dB, making it an ideal mini fan for bedside tables.

Powerful Cooling:

 

Boasts a powerful yet quiet 25W DC motor with 24 speed options to maximize indoor air circulation in rooms up to 100㎡.
Multiple Operating Modes:

 

Comes with a 12-hour auto on/off timer and 4 operating modes, including Fan, Natural, Negative Ion, and Night mode to keep you cool throughout the night.
Automatic Oscillation:

 

Activating the 180° vertical and 90° horizontal oscillation setting independently controlled helps circulate air in larger rooms.
Convenient Control:

 

The user-friendly display and remote control allow for easy adjustment of the fan's operating mode, speed, oscillation, or setting a timer for up to 12 hours.
Portable and Compact Design:

 

The sleek and compact design saves space and can be easily folded for storage or desktop use.
Dimensions

9.45 x 9.45 x 14 in

Maximum Room size

Medium

Noise Level

≤30 - ≤55 dBA

Oscillation

90°auto horizontal rotation, 180°mannual up & down head

Power Cord Length

180+3/-0 cm

Power Voltage

120V

Remote Control Battery Type

CR2032/3V Lithium Battery Coin Cells

Timer

Yes (1-12hr)

Weight

3.42 lbs

Wind Velocity

6 m/s

Fan Speed Settings

24

Speed Settings

24 m/s

Remote Control

Yes

Touch Panel

Both
Free Standard Shipping
All orders placed in the United States and Canada will be delivered in 3-5 working days . Orders are typically dispatched within 1 working day and you'll receive a shipping confirmation email once your order has been shipped.
Returns
Orders can be returned within 30 days of the original purchase date, provided the order is unused and unopened. Please follow the steps here to return your order.
If you're concerned that your product is faulty, please contact our Customer Care Team here.
Compare with similar items
Dimensions

9.45 x 9.45 x 14 in

Weight

3.42 lbs

Noise level

≤30 - ≤55 dBA

Power voltage

120V

Wind velocity

6 m/s

Oscillation

90°auto horizontal rotation, 180°mannual up & down head

Remote control battery type

CR2032/3V Lithium Battery Coin Cells

Power cord length

180+3/-0 cm

Speed Settings

24 m/s

Touch Panel

Both

Remote Control

Yes

Fan speed settings

24

Maximum room size

Medium
Dimensions

12.4 x 12.4 x 40.1 in

Weight

8.07 lbs

Noise level

54 dBA

Power voltage

120V

Wind velocity

2.96 m/s

Oscillation

70°

Power cord length

4.9 ft including plug

Speed Settings

3 m/s

Touch Panel

Both

Remote Control

Yes

Fan speed settings

3

Maximum room size

Medium
Dimensions

11.42 x 11.42 x 40 in

Weight

8.38 lbs

Noise level

≤55 dBA

Power voltage

120V

Wind velocity

6.78 m/s

Oscillation

60°

Power cord length

1.5 m

Speed Settings

3 m/s

Touch Panel

Both

Remote Control

Yes

Fan speed settings

3
Dimensions

9.45 x 9.45 x 14 in

Weight

3.42 lbs

Noise level

≤30 - ≤55 dBA

Power voltage

120V

Wind velocity

6 m/s

Oscillation

90°auto horizontal rotation, 180°mannual up & down head

Remote control battery type

CR2032/3V Lithium Battery Coin Cells

Power cord length

180+3/-0 cm

Speed Settings

24 m/s

Touch Panel

Both

Remote Control

Yes

Fan speed settings

24

Maximum room size

Medium
Dimensions

12.4 x 12.4 x 40.1 in

Weight

8.07 lbs

Noise level

54 dBA

Power voltage

120V

Wind velocity

2.96 m/s

Oscillation

70°

Power cord length

4.9 ft including plug

Speed Settings

3 m/s

Touch Panel

Both

Remote Control

Yes

Fan speed settings

3

Maximum room size

Medium
Dimensions

11.42 x 11.42 x 40 in

Weight

8.38 lbs

Noise level

≤55 dBA

Power voltage

120V

Wind velocity

6.78 m/s

Oscillation

60°

Power cord length

1.5 m

Speed Settings

3 m/s

Touch Panel

Both

Remote Control

Yes

Fan speed settings

3